Help & Advice
Ask us a Question
From questions about booking speakers, presenters and performers, to the contractual process and what you can expect on the day; with 20 years experience and standing at the forefront of our industry we've hopefully thought of, and answered, most common queries. But if not, please call us and one of our experienced agents will be very happy to help you.
How can I guarantee the comedian won't be offensive?
We cannot control what a comedian will or won't say on stage, or guarantee that no one will be offended, it would be impossible for anyone to provide that level of assurance.
But what we will always do, diligently, is our utmost to ensure that the most appropriate comedian is booked for your event. We do this by listening carefully to your brief, understanding the audience demographic, the reason you're all gathered together and what you're looking to get out of the entertainment.

Comedians are booked 'act as known', so in all honesty, there's no point asking if Jimmy Carr can avoid swearing, and specifically not to use the f*** word, as a client genuinely once requested. He's popular amongst his fan-base because the act is highly controversial and extremely offensive to many people; you could argue it's what's made him famous. That and his weird laugh!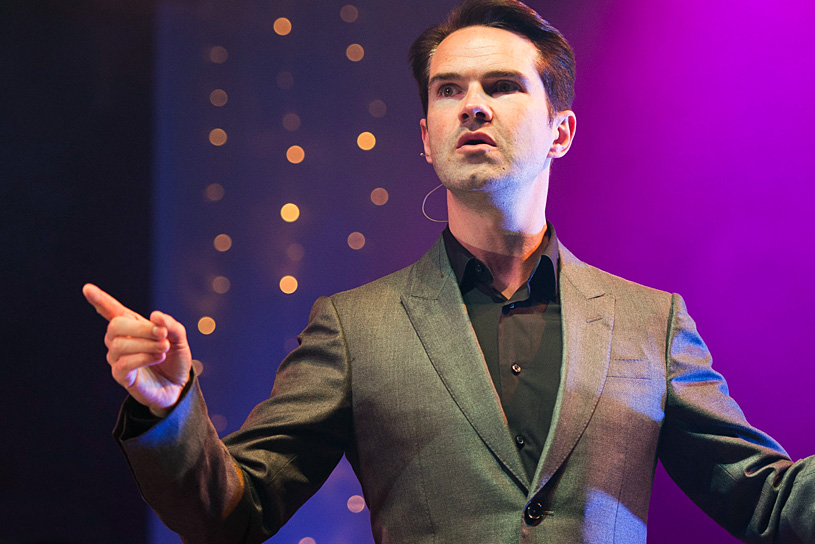 However, what one person finds offensive and unforgivable, another will deem to be perfectly acceptable; comedy is highly subjective. If you're in any way uncertain about a particular comedian, and the consequence of getting it wrong will be catastrophic, then play safe and don't book them.

That said, the majority of our bookings for comedians are private or corporate events where the audience have not paid to be entertained by the act, unlike going to watch your favourite comedian in their own theatre tour. They appreciate that they've been invited into your world for the evening and are your guest as much as everyone else at the event.
The comedians we book are professional, experienced and very mindful of this; for these engagements, they will usually tone down any bad or potentially offensive language in their act. In fact, most will check with the client beforehand as to where the boundaries lie and gain an understanding from you of what is or isn't going to be acceptable.

At NMP Live, our roster of stand-up comedians is second-to-none and one of the most diverse you'll find; in terms of celebrity profile, the fees they charge, and the type of comedy available. So we are sure to have someone that is appropriate and suitable for every type of event.