Lucy Kellaway
Award-winning Financial Times columnist turned teacher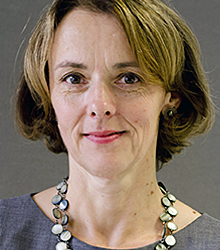 About
Award-winning journalist turned teacher, Lucy Kellaway is management columnist of the Financial Times. In 2017 she became a trainee teacher in a secondary school and is the co-founder of educational charity Now Teach.

During her 25+ year career in journalism, Lucy has worked as energy correspondent, Brussels correspondent, a Lex writer, and interviewer of business people and celebrities, all with the Financial Times. She is best known for her satirical commentaries on the limitations of modern corporate culture — poking fun at management fads and jargon and celebrating the ups and downs of office life.

Awards include Columnist of The Year in the British Press Awards 2006, Industrial Society WorkWord Award (twice), Best Commentator, Business Journalist of the Year Awards 2007 and the Wincott Young Financial Journalist Award.

Lucy has written several amusing and well-reviewed books. Her first, Sense and Nonsense in the Office, was followed by Who Moved My Blackberry? in which she followed a year in the life of her fictional creation, Martin Lukes, through his e-mails. A self-obsessed master of corporate double speak and management jargon, Martin is a satire of the type of executive who embraces every new motivational and marketing fad that comes along.

Her third book The Real Office: All The Office Questions You Never Dared To Ask, was described by the Sunday Times as 'dispensing water-cooler wisdom, not motivational gobbledygook. It gets to the heart of those tricky questions that employees, rather than employers, want answered.

In 2006 Lucy Kellaway was appointed a non-executive director of Admiral Group. In 2013 she presented the History of Office Life for BBC Radio 4 and she is a regular contributor to the BBC World Service programme and Business Daily. In 2012 she was awarded an Honorary Doctorate by the University of Essex.

Born in London, Lucy graduated from Oxford University with a degree in Politics, Philosophy and Economics. She is married to David Goodhart, founder and editor of Prospect, the current affairs magazine.
Speech Topics
Known for her witty insights into management culture and office life, Lucy Kellaway is an entertaining speaker who's presentations are hilariously funny and packed with her unique tongue-in-cheek brand of astute asides and satirical sense of humour.

Lucy shares her experience as Agony Aunt for the Financial Times, offering her frank, down-to-earth advice and practical tips for negotiating the minefield of the modern office. Reflecting on entertaining stories, Lucy covers the work dilemmas to which we all wish we had the answers.
You may also be interested in...