Anthony Hilton
Evening Standard Financial Editor and Wincott Business Journalist of The Year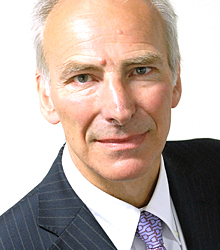 About
Anthony Hilton is a recent winner of the 'Decade of Excellence Award', the most prestigious award in business and financial journalism given annually by the World Press Awards offshoot of the Davos based World Economic Forum.

He's also been named UK Pensions Journalist of the Year by Aon and was judged runner up as Financial Journalist of The Year by the Institute of Internal Auditors. He was also announced as columnist of The Year from the Association of British Insurers and in 2010 was granted an honorary degree for services to journalism by Aberdeen University. His most recent award is that of the 2014 British Insurance Brokers Association journalist of the year.

In previous years he has won most of his industry's awards including the European Business Writer of The Year and the 2003 Wincott Business Journalist of The Year.

Anthony Hilton joined Fleet Street in 1968 as a Trainee on the Guardian. He was City Editor of the Times, 1981 to 1983 and City Editor of the Evening Standard from 1984 to 1989 and in November 1989 became Managing Director of the Evening Standard, a post he held for six years before returning to the City Office as Editor in 1996. In 2003 he became Financial Editor and economics leader writer for the paper.

He has worked for the Observer, Daily Mail and Sunday Express, and has served in New York where, for three years, he was Business Correspondent for the London Sunday Times. Anthony has worked in TV and radio, has written books on understanding finance and the City, and is a frequent conference / after dinner speaker and moderator on City and media matters.

In addition to journalism Anthony's also had a commercial career, serving as Managing Director of the Evening Standard for six years and being involved with the launch of several magazine and publishing companies. He is joint founder and past chairman of The Newsdesk Media Group, a business which employs 70 people in Britain and America, turning over £8 million a year.

He is a member of the Advisory Board of the Foundation, a management consultancy specialising in understanding customer relationships and was previously a non-executive Director of a Lloyd's insurance company.

Anthony Hilton was, for 17 years until 2009, a trustee Director and member of the investment advisory board of the Daily Mail pension schemes which has responsibility for funds in excess of £1.9 billion.

Anthony Hilton has an MA (Hons) in Economics from the University of Aberdeen, lives in Suffolk, and has four children. He is a former parachutist but now less strenuously cruises on England's canals.
You may also be interested in...