Carrie Gracie
Broadcaster and former BBC China Editor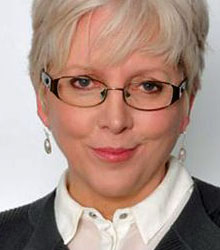 About
Carrie Gracie has been a BBC journalist for over 30 years and has an abiding fascination for China. Both the corporation and the country have played a huge part in her life.

Born in Bahrain as the second of five children to a diplo­mat father and teacher mother, Carrie grew up in north east Scotland and ran her own restaurant for a year before completing a degree in philosophy, politics and economics at Oxford University.

Having completed her education, Carrie spent a year teaching English and economics in provincial China at Yantai and Chongqing Universities; the students of 1985 were hungry for contact with the world after the isolation and paranoia of the Mao years, and they were as fascinating to Carrie as she was to them.

Once back in the UK, she joined the BBC World Service in 1987 as a trainee producer, learned her craft, and become a correspondent covering African, Chinese and Asia-Pacific regions, amongst others. However, by the time she returned to China in 1991 as the BBC's Beijing correspondent, a position she held until 1995, the mood had darkened; the Tiananmen Square democracy movement had ended in a massacre and the ruling communist party was determined not to go the same way as those in the Soviet Union and Eastern Europe.

During a brief return to the UK between 1995-96, she studied at night school for a BA in Chinese at the University of Westminster, followed by an MA in Design for Interactive Media from Middlesex University.

Despite routine surveillance and police harassment, China was still a gripping place to be for a young reporter. So gripping in fact that Carrie stayed there for most of the '90s, but by then, she had two small children and decided to return to the UK in 1999 to raise them.

For six years from January 2008, Carrie was the main morning presenter for the BBC News Channel on Tuesdays – Fridays alongside Simon McCoy. She commentated at the 2008 Beijing Olympics, hosted an interview show on BBC World Service, made annual reporting trips to check up on China, and filmed numerous documentaries about China for BBC TV and BBC Radio; winning prizes along the way, including a Peabody and an Emmy.

Gradually, what had long been clear to Carrie became clear to her bosses in BBC News… that China's rise was one of the biggest stories of our time but also one of the hardest to tell.

In December 2013, the BBC created a new role as China Editor and asked Carrie to take up the post. You won't be surprised to hear that she says leading the BBC's China coverage for four years, until 2018, has been the greatest privilege of her career to-date.

However, in January 2018, she left her post as BBC China editor in protest at unequal pay, publishing an open letter to BBC audiences and appearing before a parliamentary select committee. In June 2018, Carrie won a public apology and pay parity from the BBC, and then donated all her back-pay to the gender equality charity, the Fawcett Society, to help low paid women facing pay discrimination and to seed a strategic litigation fund for equal pay test cases.

Carrie returned to her former post in the BBC newsroom and is often the main afternoon presenter on weekends either on the BBC News Channel or BBC World News.

In September 2019, Carrie Gracie publishes her first book, "Equal", an inspiring, personal and campaigning book about how we should and can fight for equal pay and other kinds of equality in the workplace.
Speech Topics
Carrie Gracie is a highly respected broadcaster and journalist who brings a wealth of experience to the corporate sector, whether it's as a keynote speaker or conference facilitator and presenter.

When delivering keynote speeches, she primarily speaks on two topics:

Diversity & Inclusion: The gender pay gap and other areas of equality in the workplace.
In 2018, Carrie Gracie resigned her position as the BBC's China editor and accused her employer of illegal pay discrimination. She was subsequently offered a substantial pay increase, but turned it down because it still left her below that of two male international editors. She didn't want more money, she wanted equality.

Support was immediate and widespread, because issues of ageism, gender inequality and fairness were systemic, and not just within the BBC. As a defining issue of our time, Gracie became a figurehead for the equal pay movement; sexism affects so many women of all ages, grades, ethnicities and in every type of job.

There is an opportunity now, for all women, that if you can show an ability to stand up to being treated unequally, then women will benefit all around the country.

China, A Global Perspective.
With Carrie's extensive and intimate knowledge of China, she is ideally placed to provide a global perspective on current events, conflicts, and how these might affect not just trade and business relations with the UK, but all of us as individuals.

The current geopolitical landscape has never been more turbulent between China and other world superpowers. Capitalist China has become in recent years a major player on all continents and in almost all fields, diplomatic and economic.

China's approach to knowledge is rapidly catching up in at least two dominant fields: innovation and higher education. When it comes to innovation, the World Economic Forum reported that China is now the second-largest R&D investor in the world, after the USA.

In higher education, China now has four universities which stand among the world's top 100 research-led institutions. Just a decade ago, there were no Chinese institutions among the top 100.

What does all this mean for the future of UK/China relations?
You may also be interested in...