Samira Ahmed
Channel 4 presenter and newscaster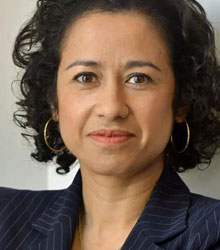 About
Samira Ahmed is a presenter on Channel 4 News. Born and brought up in London, she read English at St Edmund Hall, Oxford, and took a Postgraduate Diploma in Newspaper Journalism at City University before joining the BBC as a News Trainee in 1990. Samira was a News Correspondent from 1994 to 1997 and also worked as a presenter on BBC World and News 24.

After having her first baby, Samira joined Channel 4 News in April 2000 as a reporter specialising in social affairs- from exposing the discrimination against children conceived through donor sperm and eggs, to investigating how a paedophile headmaster at a prominent private preparatory school evaded justice for years.

Since returning to work in July 2002 after the birth of her second child, Samira Ahmed's role on the programme has been mainly as a presenter, while still reporting on special topics.
Testimonials
Thank you once again for the excellent job you did as Facilitator at the 'Age Diversity in the downturn' Conference last Friday. Both the Commission and ourselves were delighted by the way you 'time-managed' the 10 different speakers and the panel discussions that followed.The questions you posed were right on target and the way you drew in each of the speakers and put them on their mettle - but in a non-confrontational way - was a great example of the interviewers art.
You struck just the right balance between personal and professional anecdotes and insights, and the international links were spot on. Having digested the evaluation forms, I know that the conference participants were especially inspired by your integrity and by the warmth of your delivery. The evaluation feedback was glowing. Your session made a substantial contribution to the success of the whole event.
You may also be interested in...