Tim Willcox
BBC News 24 presenter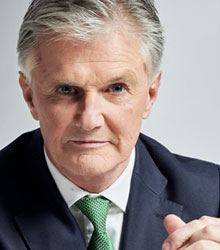 About
Tim Willcox is one of the most widely watched presenters on BBC News. Anchoring in the TV studio and on location, Tim presents on BBC1, BBC World, News Channel and BBC 4 along with BBC radio outlets. He also presents the Business Briefing and Dateline London and has covered most of the big breaking news stories of the past 25 years.

He started in newspaper journalism, working for Mirror Group Newspapers and Fleet Street News Agency. As a broadcast journalist, Tim worked for ITN News for many years as a presenter and correspondent. He was the network's Arts and Media Correspondent, and after joining the news team presented the networks live reports from New York City during the September 11 terrorist attacks.

In the studio and in the field, Tim is used to interviewing Prime Ministers and Presidents, leading international politicians and opinion-formers.

Tim has a wealth of national and international experience - In September 2010 he travelled to Chile to report for BBC News on the attempts to rescue the miners trapped underground after the Copiapó mining accident. And in March 2011 Tim played a significant role in reporting the Japanese earthquake and tsunami, reporting live for the BBC from the disaster zone and then just a few weeks later reporting from Libya on the 2011 Libyan civil war. He has also reported on Iraq and the Euro crisis.

More recent work has included presenting World News America from Washington DC, covering the Catalan crisis from Barcelona, leading the BBC on the ground coverage of major disasters including the Genoa bridge collapse, the Charlie Hebdo shootings and mass rally in Paris, the crisis in Ukraine and the super typhoon Haiyan from the Philippines.

In addition to his work as a journalist, Tim Willcox has made cameo acting appearances in a number of television dramas and films, including roles in Sex Traffic, State of Play, Jonathan Creek, 102 Dalmatians, Clueless and the BAFTA winning documentary How to Start a Revolution. He is fluent in Spanish and speaks good French.
Speech Topics
Tim Willcox presents fascinating illustrated after dinner talks about his life on the road, and is also an experienced and first class facilitator at conferences, seminars, awards ceremonies and other events in the UK and abroad.
Testimonials
It was an absolute pleasure having Tim Willcox as an MC. Tim created and sustained the awards atmosphere throughout the evening and was really engaging with the audience. The event was a great success and everyone did enormous efforts to achieve such a fabulous result. Thank you for being a part of it.
You may also be interested in...