Gavin Esler
Award-winning journalist, broadcaster and novelist (Newsnight)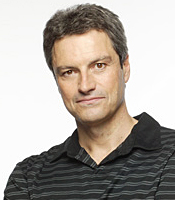 About
Gavin Esler is an award winning television and radio broadcaster, novelist and journalist. He is the author of five novels and a non-fiction book about the United States, The United States of Anger.

Gavin was born in Glasgow, but brought up in Edinburgh and Northern Ireland. He planned to study medicine at Edinburgh University and then, to the relief of patients everywhere, made an abrupt switch to English, American and, eventually, Irish literature. After he finished his post-graduate studies he was offered a job on The Scotsman in Edinburgh but turned it down as likely to be a bit dull, preferring instead The Belfast Telegraph.

He moved on to the BBC in Belfast during some of the worst of "the Troubles", and then became the BBC's Chief North America Correspondent, based in Washington and largely mis-spending his time at the Clinton White House. He has reported from countries as diverse as China, Peru, Argentina, Cuba, Brazil, Russia, Jordan, Iran, Saudia Arabia and from the Aleutian Islands, as well as all across Europe.

Gavin Esler is currently one of the three main presenters on BBC2's Newsnight, the main presenter on Dateline London on BBC World and the BBC News Channel, and a regular newspaper and magazine writer and commentator.

Over the past two decades Gavin Esler has interviewed world leaders ranging from Mrs Thatcher, David Cameron, Gordon Brown, Tony Blair, John Major, King Abdullah of Jordan and President Chirac to President Clinton, President Carter, Nicaragua's President Daniel Ortega, Ed Miliband and Israel's Shimon Peres. In the arts and culture programmes he anchors for BBC World he has also interviewed writers and artists ranging from V S Naipaul, Seamus Heaney, Javier Marias and Anita Desai to Jose Carreras, Dolly Parton, Jane Fonda, Angelina Jolie and Penelope Cruz, plus numerous film-makers including John Boorman, Peter Bogdanovich, Terry Jones and Stephen Frears.

His novels - Loyalties, Deep Blue, The Blood Brother, and A Scandalous Man - were followed in May 2010 with the paperback publication of Powerplay, a tense drama centred on a profound disagreement between the governments in Washington and London over terrorism. The Vice President of the United States travels to Britain to try to patch things up, but then goes missing, an event which signals the end of the so-called US-UK "special relationship," and creates particular problems for the narrator, Britain's ambassador in the United States.

Gavin Esler is a BAFTA member, a Fellow of the Royal Society of Arts, and the holder of a Royal Television Society award for a documentary about the Aleutian Islands. He was also awarded (2007) a Sony Gold Award for a radio documentary on prisoners in Guantanamo Bay.
You may also be interested in...