Quentin Letts
Journalist, Daily Mail parliamentary sketch writer and theatre critic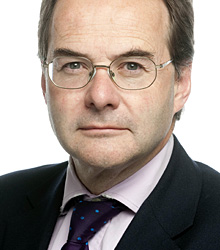 About
Quentin Letts is parliamentary sketchwriter and theatre critic for the Daily Mail, dishing up comment, character assassination and analysis of our ruling elite. He regularly appears on television programmes such as This Week, NewsNight, Have I Got News For You and Question Time.

From sticky-fingered politicians to self-indulgent arts gurus, bungling Cabinet ministers to busty pantomime dames, Letts describes his subjects with voluble glee. Likely both to amuse and provoke, he reports from the front stalls of Westminster, where he invented the nickname "Gorbals Mick" for Commons Speaker Michael Martin, and "Mr Squeaker" for Martin's successor John Bercow. Others jabbed by his quill are John Prescott, Lord Sugar, Jonathan Ross and even the poor, defenceless breakfast telly weather forecasters!

Author of "50 People Who Buggered Up Britain" and the recent "Letts Rip", he is tidier than Boris Johnson, shorter than Jeremy Clarkson and has definite views on the morals and mayhem of British public life. Letts was previously a gossip columnist for the Daily Telegraph and New York bureau chief for The Times.

In "Who's Who" he lists his pastimes as singing hymns and watching cricket. He lives in Herefordshire with his wife and three children and their extremely badly behaved Patterdale terriers.
Speech Topics
Quentin Letts is a highly sought-after speaker, at both after dinner and keynote level, and an ideal panellist / conference chair for political and current affairs focussed debates.
Books and DVDs
Below you'll find products by Quentin Letts which may be available for purchase. Click the image to view on Amazon's website. Clients often like to purchase books and other merchandise as autographed give-aways at events where Quentin Letts is appearing. For bulk purchases, please speak with the Booking Agent handling your event.
You may also be interested in...