Toby Young
Journalist and author of 'How to Lose Friends and Alienate People'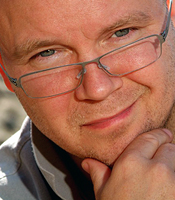 Copyright © Courtesy Photo
About
Toby Young is an associate editor of the Spectator, where he has written a weekly column since 1998, he writes a regular blog for the Telegraph and is the author of How to Lose Friends & Alienate People. He is also co-founder of the West London Free School.

Toby was educated at Brasenose College, Oxford, and was awarded a First in Philosophy, Politics and Economics. After a six-month period as a News Trainee at The Times, he went to Harvard University as a Fulbright scholar, where he worked as a teaching fellow in the Graduate School of Arts and Sciences. His mother was the BBC Radio producer, artist and writer Sasha Moorsom and his father was Michael Young, the Labour life peer and pioneering sociologist who coined the word "meritocracy".

A journalist and writer, in 1991 he founded and edited the Modern Review with Julie Burchill and her then husband Cosmo Landesman. In 1995 he moved to New York to work for Vanity Fair, returning to London five years later. He has worked as a critic and columnist for numerous publications, and is an associate editor of The Spectator as well as a Special Correspondent for GQ.

Toby Young is the author of the best-selling book How to Lose Friends and Alienate People (2001). He performed in the West End adaptation and co-produced the film, which starred Simon Pegg and Kirsten Dunst. He is also the author of The Sound of No Hands Clapping (2006). In 2005 he co-wrote (with fellow Spectator journalist Lloyd Evans) a sex farce about the David Blunkett/Kimberley Quinn scandal called Who's the Daddy? which was named Best New Comedy at the 2006 Theatregoers' Choice Awards.

From 2002 to 2007, Toby wrote a restaurant column for The Evening Standard and, following that, a restaurant column for The Independent on Sunday. In addition to serving as a judge on Top Chef, he has competed in the Channel 4 TV series Come Dine With Me, appeared as one of the panel of food critics in the 2008 BBC Two series Eating with the Enemy and served as a judge on Gordon Ramsay's Hell's Kitchen.

Toby Young is the lead proposer and cofounder of the West London Free School, the first free school in Britain to sign a Funding Agreement with the Secretary of State for Education, and now serves as the chair of the charitable trust that established the school.

An often controversial broadcaster, Toby Young is a regular guest on television and radio programmes including Question Time, the Today programme, Have I Got News For You, Any Questions, the Daily Politics and the Review Show where his areas of expertise include education, the media and politics.
You may also be interested in...