Iain Dale
LBC's award-winning radio broadcaster and political commentator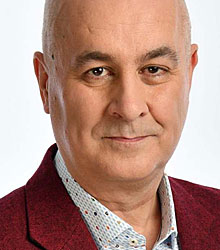 Copyright © Steve Ullathorne
About
Iain Dale is one of Britain's leading political interviewers, commentators and authors. He has been a contributing editor for GQ magazine and writes for various national newspapers and magazines, including the Guardian, the Independent, the New Statesman, the Spectator and Attitude.

Iain was also at the heart of the 2019 Tory leadership race, having chaired ten of the 16 leadership hustings featuring Boris Johnson and Jeremy Hunt.

Iain is the founder of Total Politics magazine and was the brains behind Politico's Bookstore. In 2009, he founded Britain's leading political publisher, Biteback Publishing and since then has published more than 600 books including Power Trip, Call me Dave: The Unauthorised Biography of David Cameron and The Alastair Campbell Diaries. He left the company in June 2018 to concentrate on his broadcasting career.

Iain Dale presents the Evening Show on LBC Radio (Monday – Thursday, 7–10pm). He was named Radio Presenter of the Year for 2013 & 2016 at the Arqiva Awards. He has also co-presented LBC's seven hour long general election night programme in 2010, 2015 and 2017.

He is a panellist three days a week on CNN Talk on CNN International, with Max Foster, Liam Halligan and Ayesha Hazarika. He is a regular contributor to Newsnight, the Andrew Marr Show, the Daily/Sunday Politics and The Wright Stuff. In April 2018, he made a much acclaimed debut appearance on the BBC's Question Time. He appears as a regular political pundit on various Sky and BBC news programmes.

Iain is also the creator and co-presenter of the For the Many podcast, which he records with former Home Secretary Jacqui Smith. In 2018, he launched a new podcast, Iain Dale's Book Club, with guests including Sebastian Faulks, Jeffrey Archer and James O'Brien.

His latest book, Why Can't We All Just Get Along: How To Disagree Without Losing Friends, was published in August 2020 by HarperCollins. Why Can't We All Just Get Along is part-memoir, part-polemic about the state of discourse in Britain and the world today.
Books and DVDs
Clients often ask about purchasing books for giveaways and delegate packs. Below you'll find a selection of products by Iain Dale. Click the images to view on Amazon's website. For bulk orders, please speak with your Booking Agent.
You may also be interested in...