Nick Ferrari
LBC 97.3 Breakfast host and Sony Speech Broadcaster of The Year Award winner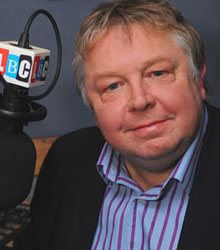 Copyright © LBC
About
Nick Ferrari is the outspoken and forthright talk-show host on LBC, 97.3, a popular, award-winning programme which he has presented since 2004. In May 2009 he was awarded the SONY Speech Broadcaster of The Year Award for his Breakfast show.

Nick Ferrari comes from a family of journalists, his father ran a well-known and respected news agency, Ferrari News Agency and his eldest brother was a reporter with the Daily Mirror for 34 years.

The young Nick Ferrari was keen to make a name for himself in the same industry - his own media career started in 1977 as a reporter for the Kentish Independent. This was followed in 1981 as a stint as news reporter for the Sunday Mirror. He then went on to become ShowBiz reporter at The Sun and Editor of the paper's "Bizarre" gossip page, Features Editor of the News of the World's Sunday Magazine and Assistant Editor of The Daily Mirror.

In 1989 Nick Ferrari was a key figure in setting up Sky News and was the second person to be hired by Rupert Murdoch. When the channel launched he was the programme's editor, but the following year was promoted to Vice President of News and Programming, of Fox TV in New York where he stayed for three years. In 1993 he returned to the UK as assistant editor of the Daily Mirror. Two years later, he became Director of Programmes for the launch of L!ve TV. In 1999 he moved into the radio industry as a presenter with Talk Radio.

Aside from his radio activities, Nick Ferrari has regularly appeared on television making guest appearances on programmes such as The Alan Titchmarsh Show, Richard & Judy, London Talking and GMTV. In 2006, Nick played himself in an episode of the BBC comedy series Extras starring Ricky Gervais filmed at the LBC 97.3 studios. In 2007, he starred in the ITV1 reality show Call Me A Cabbie with Chantelle Houghton and Lady Isabella Hervey. He also toured with his one-man stage show in 2005 consisting largely of anecdotes about his family and the various jobs he's held over the years, jokes, audience interaction and the occasional celebrity guest appearance.

Nick Ferrari is a natural-born raconteur, a consummate highly regarded broadcaster and presenter - popular for hosting corporate award dinners, interviewing key corporate figures and chairing conferences / debates. With a wealth of eye-opening and humorous anecdotes from a lifelong career in the media, Nick Ferrari's insightful after-dinner speech is not to be missed.
You may also be interested in...