Krishnan Guru-Murthy
Channel 4 News anchor and television presenter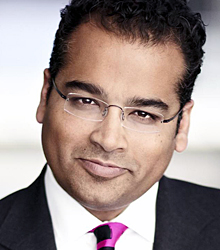 About
Krishnan Guru-Murthy is the main anchor of Channel 4 News at Noon which he combines with regular presenting of the flagship Channel 4 News at 7pm.

His work has included hosting special coverage of the 9-11 attacks, the Afghan war and the Asian Tsunami with a stint at the Washington bureau covering American politics. Away from the news Krishnan presented The Autopsy, with Professor Gunther Von Hagens, the first public post-mortem broadcast live and also Channel 4's Going Cold Turkey.

Krishnan joined Channel 4 in 1998 after 10 years at the BBC where he presented a variety of programmes from Newsnight to Newsround.

On Radio Krishnan spent two years presenting a Sunday morning talk radio show on LBC 97.3, and during the 2005 election campaign presented UK Leaders Live for more than two hundred commercial radio stations. Krishnan also writes a weekly column for the Metro newspaper every Friday.

Krishnan has a Degree in philosophy, politics and economics from Oxford University. He is available for awards hosting, presenting and conference facilitating.
Tags for Krishnan Guru-Murthy
You may also be interested in...