Tom Bradby
Presenter of ITV News at Ten and The Agenda.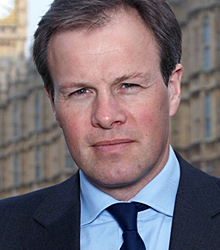 Copyright © ITN
About
Tom Bradby is a presenter of ITV News at Ten and host of ITV's weekly current affairs programme The Agenda. Renowned for his expert analysis and inimitable interviewing style, Tom has led ITV News coverage of all recent General Elections and regularly conducts exclusive interviews with the most influential figures in Westminster and the political arena.

Tom began his reporting career with ITV as Ireland Correspondent more than fifteen years ago, during which time he covered the unfolding peace process and wrote his first novel, Shadow Dancer. As Asia Correspondent, based in Hong Kong, he was shot and seriously wounded whilst covering a riot in Jakarta. After a spell as Royal Correspondent, he went on to become UK Editor before taking up his post as Political Editor in the summer of 2005.

Tom Bradby is the acclaimed author of six novels: Shadow Dancer, The Sleep of the Dead, The Master of Rain, The God of Chaos, The White Russian and Blood Money. The Master of Rain was shortlisted for the Crime Writers' Association Steel Dagger for Best Thriller of the Year 2002. The White Russian was shortlisted for the Crime Writers' Association Ellis Peters Award for the Best Historical Crime Novel of 2003. The God of Chaos was shortlisted for the Crime Writers' Association Ellis Peters Award for the Best Historical Crime Novel of 2005.
Speech Topics
As an after dinner speaker, Tom Bradby's talks are amusing, insightful, passionate and never anodyne! He reflects humorously on a long, varied and sometimes painful career in journalism; from the chaos of Ireland, to the shock of being shot in Jakarta, to the craziness of dealing with the royal family.

He has numerous witty and entertaining anecdotes from time spent with various leading figures in today's society, whilst also sharing with the audience shrewd insights in to the workings of our political system.

Tom has a unique 'no holds barred' style on television and prides himself on telling it like it is. He brings these same qualities to his public speaking, with some fascinating insights into what really goes on behind the scenes and trenchant views on the modern political world all delivered with great charm and humour.
Books and DVDs
Below you'll find products by Tom Bradby which may be available for purchase. Click the image to view on Amazon's website. Clients often like to purchase books and other merchandise as autographed give-aways at events where Tom Bradby is appearing. For bulk purchases, please speak with the Booking Agent handling your event.
You may also be interested in...