Emily Maitlis
Award-winning broadcaster, journalist and presenter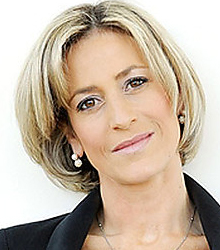 About
Award-winning journalist and broadcaster Emily Maitlis is one of the most recognised faces on BBC television news. Presenting the channel's flagship daily current affairs programme Newsnight on BBC2, she is also anchor for the BBC's main news bulletins on BBC1, plus the BBC News Channel and BBC World. She also works alongside David Dimbleby and Jeremy Vine covering all General, Local and US elections.

In 2011, Emily secured an exclusive television interview with Facebook founder Mark Zuckerberg, for which the documentary ('Inside Facebook: Zuckerberg's $100 Billion Gamble') won her the Wincott business award. She has also interviewed major political figures including Donald Trump, Kofi Annan, Julian Assange, Bill Clinton, Henry Kissinger, Christine Lagarde and all five of the most recent UK prime ministers.

Not limiting herself to the world of politics, Emily has also interviewed key figures from the world of sport, entertainment and business such as David Beckham, Sir Michael Caine, the Dalai Lama, Juliette Binoche, Hugh Grant and George Soros - to name but a few.

In November 2019, she interviewed HRH Prince Andrew - The Duke of York at Buckingham Palace about his relationship with the late American financier and convicted sex trafficker Jeffrey Epstein. The BBC Panaorama interview was watched globally and widely regarded as an expert piece of journalism on her part, and a car crash interview on his.

Emily Maitlis was born in Canada, to British parents, but raised in Sheffield, South Yorkshire and she read English at Queens' College, Cambridge. Prior to working in news, Emily was a documentary maker in Cambodia and China.

She worked for Sky News in the region and for 6 years at NBC based in Hong Kong, as a business correspondent, and then as a presenter covering lead stories such as the collapse of the tiger economies in 1997. She also covered the transfer of sovereignty over Hong Kong with Jon Snow for Channel 4. Emily then moved to Sky News in the UK as a business correspondent, and then to BBC London News when the programme was re-launched in 2001.

Emily Maitlis has written for a number of newspapers and magazines including GQ, The Sunday Times and the Spectator Magazine as well as the Guardian, Evening Standard and the New Statesman.

Emily speaks fluent French, Spanish and Italian, plus basic Mandarin. Off screen, she does a lot of work for charity, mainly with Action for Children and World Jewish Relief, as well as for Debate Mate and World Child.
Testimonials
Thank you for making the arrangements for Emily to join us this year. Everyone very much enjoyed her talk. She did a very nice job addressing the subject matter, and struck the perfect tone for our conference. We would be happy to recommend her in the future.
You may also be interested in...