Fiona Bruce
Award-winning newscaster and television presenter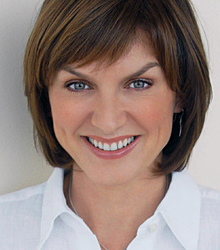 Copyright © Jeff Overs
About
Fiona Bruce is one of the most popular and established presenters working in television today. An award-winning newscaster, she is a regular presenter of both the 6 O'clock and 10 O'clock News (BBC One) and joined the Antiques Roadshow (BBC One) as lead presenter in 2008.

Fiona began her career as a researcher on Panorama, later becoming a reporter for the show and for Newsnight. She joined the 6 O'clock News in 1999 and Crimewatch in 2000 where she spent eight years as co-presenter. In 2001, she became the first woman presenter to be part of the BBC's election team.

Fiona also headed the investigative documentary series Real Story with Fiona Bruce (BBC One) and a number of high-profile single documentaries including an exclusive interview with Cherie Blair and unprecedented access to Downing Street: The Real Cherie (BBC One - 2006) an exclusive full-length interview with Bill Gates in How a Geek Changed the World (Money Programme - BBC Two) and most recently The Real Sir Alan (Money Programme - BBC Two)

Her other presenting credits include: The Green Room (BBC Radio 2), The Antiques Show (BBC2) as host of Call My Bluff (BBC One) the first woman presenter on the BBC General Election programme (2001 and 2005) and as host of the quiz show What Are You Like (BBC One) in 2008.

Fiona Bruce's first book "Savvy!: The Modern Girl's Guide to Doing It All Without Risking It All", co-written with Jacqui Hames was published by Bantam Press in 2008.
Testimonials
Just wanted to say a huge thank youto Fiona Bruce for agreeing to be part of ourCompass event last night; hercontribution to the event was pricelessand I am being e-mailed constantly saying so!
Fiona Bruce was fab! They really loved her:she was the perfect fit, very witty, verycharming and did a fantastic job - theycouldn't have been more pleased. Andwhat a lovely lady…
The event went really well yesterdayand Fiona Bruce's contribution was fantastic!
Fiona Bruce was brilliant! All the attendees thought she was fantastic, that the event ran smoothly. Everyone was very happy.
Our Diversity event at Nomura was... a real success. Thank you so much for taking the time to come to Nomura. Your contribution was absolutely tremendous and your being there, sent a strong message to all who came. Hopefully you will come and visit us again soon!"
Fiona Bruce was a delight to work with, extremely professional & held the room very well. I've received lots of feedback from delegates that mirrors this & especially notes her knowledge & interest – which is a credit to Fiona in terms of engaging & researching the industry.
You may also be interested in...