Jon Snow
Anchor of Britain's award-winning Channel 4 News since 1989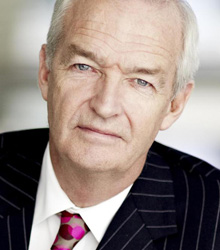 About
Jon Snow is the presenter of Britain's award-winning Channel 4 News, having joined ITN in 1976 and become Washington Correspondent in 1984. Jon returned to the UK in 1986, spending the following three years as ITN's Diplomatic Editor during which time he reported on all the major stories around the world.

Since then, he has travelled the world to cover the news – from the fall of the Berlin Wall and the release of Nelson Mandela, to Barack Obama's inauguration and the earthquake in Haiti.

In 1995 Jon Snow received the award for Best Male Presenter from the Royal Television Society at their Programme and Technology Awards. He has also won numerous awards for his reporting over the years including the Royal Television Society's 1979 News Feature Award for a report from Poland; the Monte Carlo Television Festival's 1979 Golden Nymph top news award for 'Eritrea Air Attack'; and the 1980 RTS TV Journalist of the Year Award for his coverage of Afghanistan, Iran and the Middle East.

In 1981 he received the Valiant for Truth Media Award, and in the same year, the Royal Television Society's International News Award for a report on a guerrilla camp in El Salvador. In 1982 he won this award for a second time for his report, 'El Salvador: Shootout on Polling Day'. He also collected the 1989 RTS Home News award for ITN's coverage of the Kegworth Air Crash.

Other important stories he covered include the American Shuttle disaster, the Pope's tour of Poland in 1983 and Falklands reports dispatched from Chile. In February 1999 Jon Snow interviewed Monica Lewinsky for Dispatches on Channel 4.

Jon Snow's many awards include the Richard Dimbleby BAFTA award for Best Factual Contribution to Television (2005), and Royal Television Society awards for Journalist of the Year (2006) and Presenter of the Year (2009).

He has also presented a wide range of discussion programmes and a number of high-profile documentaries for Channel 4. He presented coverage of the Opening and Closing Ceremonies of the Paralympics and also hosted a nightly programme in the run up to the Paralympics - Jon Snow's Paralympic Show. He has presented a number of Dispatches programmes including Can You Trust Your Bank and the two-part Landlords from Hell. Other documentaries include Drugs Live, Genius of British Art - the Art of War, Jon Snow's Tsunami, War on Terror Trial, Bloody Sunday Debate, Snow in Japan, The Emillionaire Show and Secrets of the Honours System. Jon hosted the live Channel 4 debate for the Scottish Referendum in September 2014.

In addition to presenting ITN's programmes on Channel 4, Jon is Chairman of the New Horizon Youth Centre and Deputy Chairman of the Media Trust.
Performance
In addition to being an entertaining and insightful after dinner speaker for a multitude of events, Jon Snow is also highly sought after in the corporate world to chair conferences and seminars, and is a highly skilled conference facilitator.

He has a wealth of experience hosting events and award ceremonies, both at home and internationally.
Testimonials
The hosting from Jon Snow at our awards ceremony last week was first class, he was fantastic and made what is always a great day a memorable one.
Jon Snow was an entertaining and engaging host, sharing his experiences from the many encounters with political giants during his long and illustrious career. We would recommend him as a keynote speaker for any high profile occasion, and would happily invite him to return to our annual conference in the future.
I am just writing on behalf of the whole team here to thank you for your significant contribution to the above event…I must also thank you for your excellent padding out skills and good humour which proved invaluable We were really pleased to work with someone so professional, and it made the day a great success.
I am writing to let you know how delighted we were with the after dinner speech given…by Jon Snow. Our guests were particularly impressed by the fact that Jon took questions after the dinner for the best part of an hour after his speech in a relaxed, informal and informative way. I have had a great deal of positive feedback from guests after the event.
Just a line to thank you so much for doing such an excellent job for us at the Awards…You made it come alive.
Jon Snow was probably the best after dinner we have had at an event.
You kick started the event and set the tone for the three days. Everyone in the industry values and listens to you.
You may also be interested in...