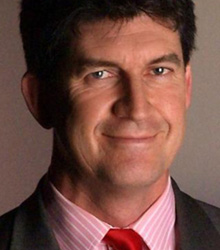 About
Alex Thomson is a familiar face as a regular main presenter of Channel 4 News. When not in the studio he's a roving correspondent for the programme, having covered 14 wars- the most recent in Iraq.

Since joining Channel 4 News in 1988, he's won a series of major national and international awards for both war reporting and investigative journalism.

For several years Alex chaired the Flora and Fauna International's national conference in London, the world's oldest environmental group. He regularly chairs panel discussions and Q&A sessions, a selection of recent events being: the National Tenants Association; an evening with the photographer James Nachtway; the Coca Cola conference and National Consumers Council Annual Conference.

Alex Thomson also compered and presented The British Design Brands Awards at London's Dorchester Hotel. He also is a regular panellist and speaker on media issues at schools and colleges around Britain.

Alex is also a guest presenter of 'The Correspondents' for CNN International and is the author of two books, Smokescreen - The Media, The Censors, The Gulf War and Ram Ram India - A bicycle journey across the subcontinent.
You may also be interested in...