Ben Shephard
Television presenter and anchor for Sky Sports Champions League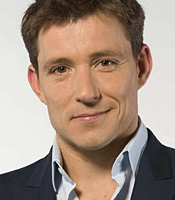 About
Engaging, warm and genuine, Ben Shephard is renowned for his ability to bring out the best in people and this, combined with his dynamic and energetic style, makes him one of the most popular presenters in the UK.

Ben is host anchor for Sky Sports Champions League, Goals on Sunday and Carling Cup coverage as well as the spectacular mental and physical challenge show Safebreakers for Sky 1 which transmitted in 2011.

Amongst his most recent achievements Ben was instrumental in the return of TV's toughest quiz, The Krypton Factor; worked for 8 years on Behind the Magic of Harry Potter for ITV1; and hosted BBC1's 1 Vs 100. Other credits include ITV1's One Night Only with Rod Stewart and also with Phil Collins and, of course, 10 years at the helm of GMTV.

Ben Shephard was also part of the original team that launched X Factor, hosting 3 seasons of the award winning Xtra Factor ITV2, defining the show that remains a huge hit today.

As an interviewer and event host Ben Shephard has a unique ability to put people at ease. A challenging and insightful interviewer to a broad spectrum of people, from politicians such as David Cameron and Gordon Brown; global stars such as Madonna and Angelina Jolie; sportsmen such as Fabio Capello, Steven Gerrard and the England Rugby Team, to business leaders such as Phil Bentley, Sir Clive Woodward, and Sir Howard Stringer.

His professionalism and adaptability makes him the host of choice for leading events including The British Olympic Association Ball; Sony Global Conference; the BAFTAs, The Duke of Edinburgh's DofE Awards Annual Dinner; RFU World Cup Dinner; British Airways; Jamie Oliver's Fifteen Foundation Annual Dinner and The Prince of Wales' Prince's Trust Awards. Ben recently hosted a series of events for UEFA surrounding the Champions League Final at Wembley alongside Michel Platini and Boris Johnson.

Outside of his broadcasting work Ben Shephard pushes himself to the limit with personal sporting challenges. In 2009 he set up and co-ordinated the annual C2C event, a 145 mile coast-to-coast charity run across the entire width of the UK. In 2011 the runners doubled their distance and each completed over 300 miles in 7 days.

In the last 10 years Ben has completed 14 marathons, climbed Mount Kilimanjaro with Gary Barlow and Cheryl Cole for Comic Relief, discovered a passion for boxing when he fought and defeated Lemar for Sport Relief, and holds 4 Guinness World Records. He has represented England in Soccer Aid, playing against Maradona and Zinadine Zidane; played rugby at Twickenham, and still regularly boxes at the Fitzroy Lodge in East London.

Passionate about people, Ben Shephard is a patron of several charities and has regularly hosted events for the Cystic Fibrosis Trust; Silence in the Square for the Royal British Legion; the Seve Ballesteros Foundation dinner and the launch of Help Harry Help others. He travelled to Haiti directly after the earthquake to help re-build a school. He and the team personally distributed 500,000 mosquito nets to local families in Uganda for Comic Relief.

In order to share his ability to genuinely connect with others, Ben is currently developing an inspirational training programme in Communication.
You may also be interested in...