Andrew Castle
Television presenter and former British tennis champion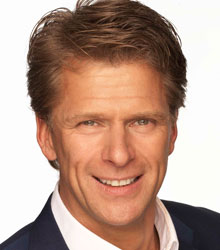 About
Andrew Castle is one of breakfast TV's most familiar faces and was an integral member of the GMTV presenting team.

After retiring from professional tennis in 1992, Andrew began his broadcast career as a commentator and broadcaster for Sky before joining GMTV in 2000 where he made the sofa his home for 10 years. Covering both news and features, Andrew won acclaim for his steadfast coverage of the war in Iraq, proving his experience, talent and empathy as both a journalist and presenter.

A former men's singles UK No. 1, Andrew is still passionate about the game and still plays tennis to a high standard. He is a regular in the Men's Senior Championships at Wimbledon playing with John McEnroe and Tim Henman.

In addition to his sporting career Andrew has a wealth of experience as a Sports Broadcaster and commentator, and is a key member of the BAFTA nominated BBC team covering Wimbledon each year.

On top of his many broadcast credentials, Castle is also a seasoned after dinner speaker and award show host. He is renowned on the corporate circuit as a hugely entertaining speaker, auctioneer, and a professional host.
You may also be interested in...