Garry Richardson
Sports presenter on BBC Radio 4's 'Today' programme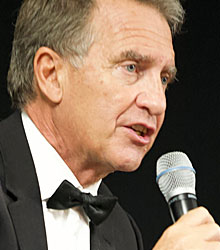 About
Garry Richardson has worked for the BBC for over four decades. Starting as a tea boy in the BBC Archives, Garry has since forged a incredibly successful broadcasting career. He has been presenting on Radio Four's prestigious Today programme for over 40 years and is now the longest serving member of the team.

A regular contributor on BBC TV, Garry has reported on seven Olympic Games and has interviewed some of the world's most famous names including Nelson Mandela, Bill Clinton, Muhammad Ali, Bobby Moore, Sir Stanley Matthews, David Beckham, Tiger Woods, John McEnroe, Arnold Schwarzenegger, Eddie Murphy, Ben Stiller, Ronnie Barker and Sir Richard Attenborough.

However, it is through his appearances on the Today programme that millions of Radio 4 listeners have got to know Garry. In a long broadcasting career he has interviewed and worked alongside some of the world's most famous men and women and drawing on those experiences he has become one of the funniest speakers on the after dinner circuit.
Speech Topics
On the after dinner speaking circuit Garry Richardson has entertained audiences from all over Britain for over 30 years. His speech is a rich mixture of stories and anecdotes about his life in broadcasting including his incredible interview with President Bill Clinton in Wimbledon's Royal Box, in front of 18 thousand tennis fans sitting under umbrellas and 10 million viewers on BBC 1.

Garry believes that his popularity as a speaker is down to his routine. As he says "all audiences will contain sports fans and even if you are not a sports fan my stories are so general it doesn't matter". This point is underlined by an appearance for the National School Bursars Association where 80% of the 250 people in the audience were women. The organisation was so delighted with Garry's performance they booked him for their national event.

It's at the corporate business dinners where Garry Richardson has proved to be an outstanding success. He has been booked on no less than nine times by the Institute of Directors.

Garry has worked for Coutts Bank, entertaining prospective new clients in the directors dining room, and the range of clients for whom Garry has performed include just about every profession you can think of - IBM, Porsche, Mercedes, HSBC, Port Users Association, Institute of Chartered Surveyors, Freight Transport Association,Institution of Engineering and Technology, Association of Council Secretaries and Solicitors, Society of Chartered Accountants, Civil Engineering Contractors Association,The Insurance Institute, Association of Corporate Trustees, National Farmers Union, British Health Care, Deloitte, Pipeline Industries Guild, Bank of Ireland, Barclays, Qantas,British Airways, American Airlines and KPMG.

Garry's attention to detail and dedication as an after dinner speaker make him one of the UK's busiest performers. It's his ability to be able to deliver such a crafted and humorous speech that means he performs to such a wide variety of audiences.

Garry will speak sometimes to just a handful of guests, while on other occasions audiences are much larger. For example he appeared on consecutive nights at the Grosvenor House Great Room entertaining 1200 guests at each dinner. At the Chemical Industries Dinner he received a standing ovation. The following night Garry addressed the Oil Industries club

Garry will always liaise with clients ahead of functions making sure nothing is left to chance. His mixture of anecdotes proves time and time again to be a hit with his audiences.

MOTIVATIONAL SPEAKING
Through rubbing shoulders with senior business figures, Garry is also available to provide a light hearted 'Motivational Speech'. It's a speech that contains important messages for succeeding in business.

It was Garry who hit the headlines when he interviewed President Bill Clinton live on BBC One. Garry wrote an impromptu letter to Clinton and then persuaded 'Secret service' agents to pass it to the American President. Garry also once interviewed President Nelson Mandela again through seizing an opportunity.

He says his best scoop was doing a lap of honour at the Silverstone Circuit after the the British Grand Prix. Garry commandeered a car and then persuaded world champion Nigel Mansell to do a lap of honour as 110 thousands spectators watched on.

Garry's motivational speech will inspire any audience as he explains how he joined the BBC as an office junior but went on to work with the world's biggest stars.
Testimonials
Everyone was very impressed and thoroughly enjoyed Garry Richardson's speech.
Garry Richardson immediately got the crowd laughing and kept us well entertained with his anecdotes and observations. A truly accomplished speaker it was a performance myself and others have rarely seen bettered.
Please pass on our effusive thanks to Garry Richardson. His contribution as the After Dinner Speaker at the DAF Trucks conference dinner last week was outstanding and our client was more than pleased with his very entertaining and very, very funny stories.
Garry Richardson was excellent hitting just the right note to appeal not just to the sportsmen but to the non-sports minded as well.
We have received only positive feedback from the delegates all bar none enjoyed your excellent speech.
Please pass on our effusive thanks to Garry Richardson.His contribution as the After Dinner speaker at the DAF Trucks conference dinner last week was outstanding and our client was more than pleased with his very entertaining and very, very funny stories.
The feedback has been fantastic, Garry was very funny and very enlightening.
I have received nothing but praise about your speech
Tags for Garry Richardson
You may also be interested in...