Sue Barker MBE
Former No.1 British tennis player, now popular commentator and presenter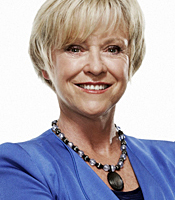 About
Sue Barker is the UK's leading female sports presenter.

She has established herself over the last ten years as the BBC's anchor for all of their main sports broadcasts fronting television coverage of The Olympics, Wimbledon the Grand National and Sports Personality of the Year.

Sue is also the host presenter of the ever-popular sports quiz, A Question of Sport. Since her arrival with Ally McCoist and John Parrott six years ago, the programme has grown from less than 4 million viewers to a consistent figure of nearly 10 million.

Many people forget the level to which Sue played professional tennis. In 1976, she was ranked Number 3 in the world and won a Major - The French Open. Sue still maintains close links with the sport socially as well as via her broadcasting career.

Away from television, Sue has created another career as a dynamic host for corporate events. This can range from scripted award ceremonies to facilitating conferences. Sue also works with a select group of blue chip companies helping their promotional/marketing activities.

Sue's bubbly personality and professionalism has endeared her to the British public and BBC research shows that she is popular with both men and women alike. Married to Lance, away from her professional activities, she enjoys cooking, walking her dogs and playing the very occasional game of golf.
You may also be interested in...