Judy Murray OBE
Former Scottish National Coach and mother of World Champion Andy Murray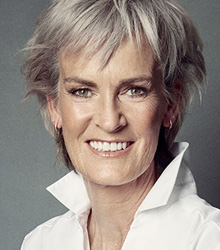 Copyright © Dan Kennedy
About
Judy Murray is a former Scottish international tennis player with 64 national titles to her name. She became Scottish National Coach in 1995, the same year that she became the first woman to pass the Lawn Tennis Association's Performance Coach Award. She is now in demand as an after dinner, keynote and motivational speaker for conferences and events.

Though Judy has done more, arguably than anyone else — save her sons — to promote tennis within Scotland and women's tennis more widely, her sons' dazzling success has meant that for the most part she was, until recently, generally just seen as 'Andy Murray's mother' or "Judy Murray: the woman in the players' box, the pushy tennis mum".

Judy has developed several tennis initiatives including Miss-Hits, a starter programme for girls age 5 to 8, Tennis on the Road, which takes tennis into remote and deprived parts of Scotland, and, most recently, She Rallies, a programme with the LTA, to encourage more women and girls into tennis across the UK. Petite, softly spoken, with a cheeky glint in her eye – Judy Murray has done wonders for women's sport and for women full stop.

She also initiated the Scottish Development School programme which ultimately produced four Davis Cup players and one Fed Cup player, including her Grand-Slam-winning sons, Jamie and Andy. In 2011, Judy was appointed Captain of the British Fed Cup Team and used this role to grow the profile and numbers in women's tennis across players and coaches.

Growing up in Dunblane, Scotland, the daughter of tennis loving parents, Judy learned the joy of competitiveness from her father, who above all did not want to be beaten by his children. Prior to university, she took a year out to play on the pro circuit. Later, she found work in the confectionery business, where she met her sons' father. Judy studied French and business studies at Edinburgh University and worked in retail management and sales before becoming a full-time tennis coach in 1994.

Several life events played a part in Judy Murray's more recent blossoming. One is when she got the job of GB captain of the Fed Cup team in 2011. Another was a series of successes in 2012-13: her son Andy, winning Olympics gold in 2012, at the same time as she was captaining the women's Olympics team, followed, in 2013, by Andy winning at Wimbledon. The third is her appearance on the BBC's prime-time show Strictly Come Dancing in 2014, a show which she says was one of the first things she did really entirely for herself.

Judy Murray was awarded the title Order of the British Empire (OBE) in HM The Queen's 2017 Birthday Honours for services to tennis, women in sport, and her charity work.
Speech Topics
Motivational Speaking
As mother to tennis champions Jamie and Andy Murray, Judy's story is an exemplary example of how "anything is possible". What happens when you find you have exceptional children? Do you panic? Put your head in the sand? Or risk everything and jump in head first?

Being the Scottish National Coach, coach of the Fed Cup, and general all-round can-do woman of wonder, she is the ultimate role model for believing in yourself and reaching out to ambition. As a parent, coach, leader, Judy is an inspiration who, along the way, has helped to revolutionise British tennis.

From the soggy community courts of Dunblane to the white heat of Centre Court at Wimbledon, Judy Murray shares with her audience the extraordinary challenges she has faced, from desperate finances and growing pains to entrenched sexism. We all need a story of 'yes we can' to make us believe great things are possible. Judy Murray tell that story.

After Dinner & Keynote Speaking
Judy Murray is an impressive, entertaining and informative speaker, whose drive and determination is an inspiration to us all.

As an after dinner speaker, she regales her audience with amusing tales of trading childcare for tennis lessons; how she had to fight to be recognised in the male dominated coaching world; and how, as a single Mum, with no car and no income, Judy created an environment for her sons to train, practice, and eventually compete all over Scotland and eventually all over the world; let alone walking into the Aladdin's cave of designer dresses laid on for her at Wimbledon!

And at conferences where the tone is of a more serious nature, Judy shares her experience and perspective as a leading sports coach on the subject of being inclusive and supporting diverse talent, and building resilience and developing a strong mindset to overcome everyday challenges both in business and our personal lives.

Judy has addressed audiences as varied as the Association of British Insurers (ABI), Well-being Of Women, Sports Industry Breakfast Club, Quarriers Ladies Lunch, Association of Scottish Businesswomen's annual national conference, CALA Homes, and others.
You may also be interested in...