Maria Sharapova
International tennis sensation. Winner of multiple Grand Slams.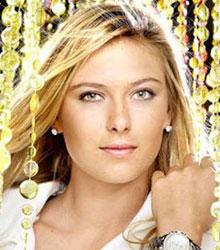 About
Maria Sharapova was born in Nyagan, Russia, and at the age of three, moved with her family to the resort town of Sochi, beginning to play tennis at the age of four. When she was five or six, Maria was spotted by Martina Navratilova at a tennis clinic in Moscow, who urged her parents to get her serious coaching in the USA.

She turned professional at just 14 and in 2004, Maria Sharapova became the second youngest Wimbledon women's champion in the Open Era (after Martina Hingis) by defeating defending two-time champion Serena Williams in straight sets (6-1, 6-4). In the process she also became the first Russian ever to win that tournament.

She is the winner of multiple Grand Slams in her career; Wimbledon (2004), US Open (2006), the Australian Open (2008) and French Open (2012 & 2014). During the Summer 2012 Olympic Games in London, she was awarded the Silver Medal for Women's Singles Tennis.

Maria holds a number of firsts for her native Russia. She is the first Russian to win the Australian Open and the only Russian to win multiple Grand Slams.

As an international icon, Maria garners world-wide press coverage – both on and off the court – with a dominating social media presence. She serves as an ambassador to many of the world's top luxury brands and a number of Fortune 500 companies, including the likes of Nike and Tiffany & Co.

She is someone who has succeeded in the face of adversity throughout her career. In 2007, a shoulder injury sidelined Maria and contributed to a series of losses, but she was still ranked among the top 5 women's tennis players at the end of that year. Her shoulder injury continued to plague her game, sidelining her in 2008. In 2009, Sharapova had surgery to repair the injury and after a year of rehabilitation and a string of losses, she started to make a comeback in 2011 when she finished the year ranked 4, her first top 5 finish since 2007.

In June 2012, Sharapova defeated Sara Errani in the women's French Open, becoming the 10th woman to complete a career Grand Slam, winning all four major tennis tournaments.

The same year, Sharapova flexed her entrepreneurial muscles and debuted her eponymous couture candy collection, Sugarpova. A portion of Sugarpova's proceeds go towards the Maria Sharapova Foundation, which helps children around the world achieve their dreams. In 2007, she became a Goodwill Ambassador for the United Nations Development Program (UNDP) and has donated significant contributions to Chernobyl-related projects in her native country.
You may also be interested in...