Venus Williams
International tennis champion and one of the worlds greatest sportswomen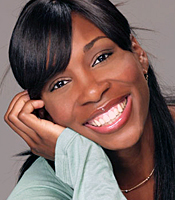 About
Venus Williams is an international tennis champion, entrepreneur and author. The first African American to reach #1 as a professional in either the men's or women's game, Williams continues to appear at the very top of the professional rankings. Over the course of her career, she has won 7 Grand Slam titles, 43 Singles titles & 3 Olympic Gold medals.

Among her numerous accolades, Venus has been named "Sports Woman of the Year" by Sports Illustrated, profiled on CNN's People in the News and included in the Forbes "Celebrity 100 List." Williams has also won multiple ESPY awards for "Best Female Athlete" and "Best Female Tennis Player" and has been named one of Glamour magazine's "Women of The Year."

In 2007, Venus Williams launched her own line of athletic clothing called EleVen. She is also the owner of V Starr Interiors, an interior design company in Palm Beach Gardens & Jupiter, FL, specializing in residential design.

In June 2010, Venus Williams released her first book, titled Come to Win. The book includes contributions from a wide range of men and women who have reached the very top of their games - including former CEO and bestselling author Jack Welch, fashion designer Vera Wang, actor Denzel Washington, and former Secretary of State Condoleezza Rice. She resides in Palm Beach Gardens, FL.
Books and DVDs
Below you'll find products by Venus Williams which may be available for purchase. Click the image to view on Amazon's website. Clients often like to purchase books and other merchandise as autographed give-aways at events where Venus Williams is appearing. For bulk purchases, please speak with the Booking Agent handling your event.
You may also be interested in...