Pat Cash
Australian-born World Tennis champion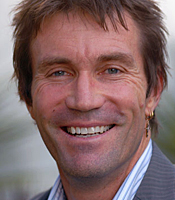 About
Pat Cash was born in 1965 in Melbourne, Australia. He started playing tennis at nine years old, and through perseverance, was the best player in Australia by the time he was 14.

In 1982, Pat reached the quarterfinals of the Australian Open and in 1984, Pat reached the semi-finals of the US Open and the Wimbledon Championships. 1987 started well for Pat when he won the Johannesburg and Nancy tournaments and got to the final of the Australian Open.

1987 also saw Pat win the title he wanted more than any other, the Wimbledon Championships which he won in straight sets, becoming the first Australian to win the title since John Newcombe in 1971. To the surprise of the spectators, Pat made his famous climb up the seats to embrace his family on his fantastic victory.

Pat Cash was disrupted by a number of injuries that hampered his progress throughout his career. He reached his highest world ranking of 4th in 1988 and continued to play on the professional circuit until the late 1990's. At the age of 34 Pat finally retired from the circuit and is now involved in a number of different projects.

In partnership with Gavin Hopper, Pat has opened the Cash/Hopper tennis academy in Australia where he will use his coaching skills to help up and coming tennis players. He is an accomplished television commentator (notably with BBC Sport's Wimbledon team) and is a keen musician, playing guitar with his band at various concerts and gigs. Pat also works with various charities that he supports including carrying out duties as the UK President of GOAL, a charity that is helping street children all over the third world.

Pat Cash is a dedicated family man and is married to Emily and is father to twin boys Jett and Shannon. He also has two children from a previous relationship.
You may also be interested in...