Holly Hamilton
BBC broadcaster and journalist (BBC Breakfast)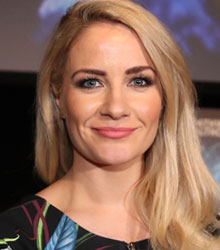 About
Award-winning broadcaster Holly Hamilton can be found on BBC One, BBC Two, BBC News and BBC Sport.

Originally from Co. Down in Northern Ireland, her career actually started in Scotland, where she worked for Scottish Television and was part of the original news broadcasters on the channel's flagship political programme Scotland Tonight.

Now considered one of BBC Breakfast's most energetic presenters, her varied career has included BBC coverage of Wimbledon, presenting from the red carpet from the BBC Sports Personality of the Year Awards, covering some of the biggest sporting events for BBC Sport and being co-anchor for the end of year review special for BBC NI.
Testimonials
Holly Hamilton did a wonderful job hosting our annual GO Awards event in Dublin. At all times Holly was professional, welcoming and accommodating. We received wonderful feedback about our event host from our delegates and it was a pleasure to work with Holly on this event. I would highly recommend booking Holly to host your next event.
Holly was excellent and went down really well. We seemed to give her plenty to do with some last-minute changes which she easily got hold of and delivered with confidence and kept us on track. She did particularly well with the auction and the amount raised for the rugby ball!
You may also be interested in...