Steph McGovern
BBC Breakfast presenter and Business Editor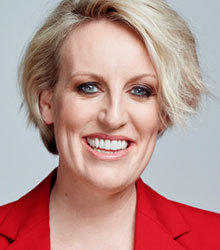 About
BBC Breakfast business presenter and occasional co-host, Steph has covered finance for 5 Live, hosted On The Money and reported from over 50 different workplaces.

For over ten years Steph McGovern has reported on business and finance from around the world, from international finance summits to small business success stories. She's now established as part of the BBC Breakfast team, covering business developments daily, and also regularly taking to the sofa as main co-host.

Steph McGovern's duties on Breakfast include leaving the studio and meeting first-hand those on Britain's business frontline. Speaking to factory workers and FTSE CEOs, Steph's mission is to uncover and explain what's going on in the real economy. As well as Breakfast, Steph also presents business and finance programmes on 5Live and Radio 4.

Originally from Middlesbrough, Steph's first TV appearance was on a programme about women in science. She had just won the title of Young Engineer for Britain, after saving Black & Decker over one million pounds on a design for their Leaf Hog product. This led to work experience on Tomorrow's World (whilst at university) and, eventually, to producing the financial news on Radio 4's Today programme which saw her covering Conrad Black's trial in Chicago and the biofuels industry from Brazil. 

During the financial crash Steph was the lead producer of business news on all BBC bulletins, working with business editor Robert Peston at the forefront of the award-winning coverage of the credit crunch and banking crisis. Steph McGovern soon began broadcasting herself, presenting on 5Live's On The Money and hosting her own feature - Steph's Sunday Shift - where she spent time in over 50 different workplaces across the UK, including a gas rig in the Irish Sea, an air traffic control centre and a nuclear power station. She also presented business news on Chris Evans's Radio 2 show.

As well as her media work, Steph McGovern is involved in community and education projects. She is also a former champion Irish dancer. She still attends competitions, and coaches, and was briefly a YouTube sensation when she showed off her talents on air.
Testimonials
Considering booking Steph McGovern for your event? You may find the following client testimonials and comments helpful. To enquire further about Steph McGovern for corporate and private bookings, click here or call us on +44 (0)1372 361 004.
Steph McGovern provided that rare combination of assured confidence, detailed sector knowledge, insightful analysis and expert management across the Conference. She was a critical part in helping to ensure that it was both an outright success and delivered on all of our key metrics.
You may also be interested in...