Sally Bundock
BBC News and business presenter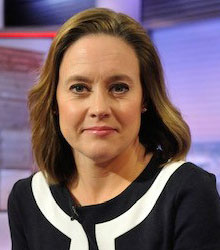 About
Sally Bundock is recognised globally as the presenter of The Briefing on BBC1, BBC News Channel and BBC World News. Covering news, business and finance, the one-hour live programme is watched by a daily audience of more than 100 million worldwide.

Sally also presents the BBC's flagship business programme, Work Life, covering all the key business stories, getting the inside track from the world's leading CEOs and discussing the latest news and ideas to benefit work-life balance.

A trusted business authority and internationally renowned journalist, Sally completed an undergraduate degree in public administration at the Polytechnic of Wales before relocating to London and obtaining a postgraduate diploma in journalism at City University London. Her job often takes her around the world where she covers events including the World Economic Forum, G20 summits and historic EU summits.

Sally has also worked extensively in radio including presenting Wake Up To Money on BBC Radio 5 Live and presenting the business news on Drive Time with Simon Mayo on BBC Radio 2. She has also covered the business news on BBC One's Breakfast.

Previously, Sally Bundock was named as one of the UK's 50 most powerful part-timers on the third annual Power Part Time List compiled by both Timewise and The Financial Times. Sally is now working with Timewise as part of the judging panel. As a widow with three active sons, Sally is a strong advocate for successful work-life balance.
Speech Topics
As an established and recognisable BBC presenter, Sally Bundock is popular and sought-after for facilitating conferences and hosting business awards ceremonies.

As a business journalist, it makes Sally an ideal keynote speaker on all business-related matters, and as widow who's a mother of three children and presenter of BBC's Work Life on the BBC News Channel, she is a passionate advocate for all matters related to work-life balance.
Testimonials
Sally Bundock was fabulous - she was obviously very good at the presenting side of the awards, but what surprised us most was that she was willing to mingle with the guests before the event and seemed to find something in common with everyone she spoke to - an outstanding professional in every way.
Sally Bundock was an absolute legend, incredible host and individual.
You may also be interested in...