Joanna Gosling
BBC broadcast journalist and presenter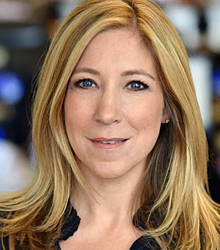 About
Joanna Gosling is the morning anchor on the BBC News channel, presenting weekdays from 11am-1pm. She also stands in for Victoria Derbyshire on her daytime current affairs show, presenting the programme on Friday.

With more than 25 years experience as a broadcast journalist and author, Joanna is a well-known face on television, having also presented BBC Breakfast, BBC1 weekend bulletins and reporting for Sky and ITN.

An academic with a flair for languages, Joanna went from school to study at the University of Birmingham from which she obtained a degree in French, and then University of Grenoble where she originally wanted to become a war correspondent.

She started her broadcasting career as a trainee reporter, completing a series of work placements at Birmingham's BBC WM, Fox FM in Oxfordshire and BBC Radio Scotland in Edinburgh, before securing her first full-time position with Independent Radio News where she read the news for Chris Moyles on Capital Radio.

Joanna Gosling joined the BBC News 24 team in 1999, initially working on the overnight slot when the channel was simulcast with BBC One and BBC World. She has since gone on to report on major UK stories including the 2010 Icelandic ash cloud incident which closed the skies over northern Europe; reporting from Westminster in the aftermath of the 2010 general election and the formation of a coalition government; breaking the news that Gordon Brown would resign as the British Prime Minister, and in 2011 she was part of the BBC team which presented coverage of the wedding between Prince William and Kate Middleton.

Joanna is also a successful published author, having written three books on home making. Her first, Simply Wonderwoman (2011) was a best-seller; Home Made Simple (2012) and Home Made Simple for Kids (2014) have been published around the world.

Joanna Gosling is an experienced interviewer whose relaxed, chatty style works very well as a conference facilitator or awards host.
Speech Topics
Joanna Gosling is an experienced interviewer and facilitator whose relaxed, chatty style works very well as a conference facilitator or awards host.

Recent events include:
- 4 day Tesco internal media conference
- 'One Show-style' BBC internal communications event
- In conversation event with Frank Gardener for the Royal Geographical Society
- Charity event host for Macmillan
- Speaker at working mums live conference
- Inspirational speaker at speakers for schools
You may also be interested in...