Naga Munchetty
Financial journalist and BBC Breakfast presenter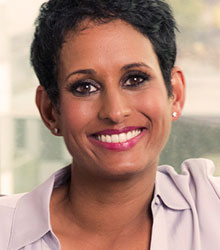 About
Naga Munchetty presents the European Mornings sequence on BBC World News and can regularly be seen on BBC Breakfast.

Naga joined the BBC in 2008 to present BBC2's Working Lunch - a personal finance programme which helped guide viewers through the fallout of the credit crunch, and global recession through the eyes of business leaders and financial experts.

She has also presented for BBC2's Newsnight, Radio 4 Moneybox and the BBC News Channel.

Her first job in journalism was working on the City Pages of the Evening Standard, she then moved to The Observer as a financial journalist for the business section of the paper.

As the lure of television proved too strong to resist she began reporting for Reuters Financial Television, from there she worked for CNBC Europe as a Senior Producer and then as Business Producer and Reporter for Channel 4 News.

Prior to joining the BBC Naga spent two years at Bloomberg Television as a Senior Presenter, where she covered stories connected with the health of the Economy – guiding viewers through the start of the credit crunch, the collapse of Northern Rock and the economic downturn that's hit Britain and the rest of the world. At Bloomberg Naga grilled central bankers, Chief Executives and Fund Managers. Naga studied English Literature and Language at Leeds University. She holds a Post-Graduate Diploma in Newspaper Journalism.

She is an avid golfer - Playing at least 5 times a week with a handicap of 11 she will play in practically any weather. She ran the London Marathon last year - And vowed never to do it again. She also won Celebrity mastermind in 2013 - Her specialist subject was "The Ryder Cup 1979-Present."
Testimonials
Naga Munchetty is one of the coolest-headed charismatic professional broadcast presenters available today. Presenting to an international audience of aviation specialists in Munich she simply 'wowed the crowd' with consummate presentation skills and the minimum of fuss. She has a natural ability to bring the best out of people live on stage and brings a warmth and humour to proceedings that is simply unique. She also has a real instinct for spotting a story. I would not hesitate in recommending her for major events. We will certainly be having her back.
You may also be interested in...