Gethin Jones
Welsh television presenter (Daybreak, Blue Peter, S4C)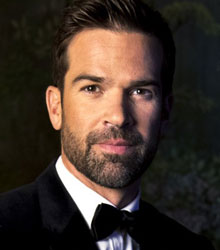 About
Gethin Jones started his television career on Welsh Channel S4C between 2000-2003, where he presented five series of 'Popty'. He then went on to present the channels flagship youth magazine show called 'Uned 5' for two years. However, it is possibly presenting 'Blue Peter' that propelled Gethin into the mainstream media. He was also a semi-finalist in BBC1's Strictly Come Dancing in 2007.

Gethin presented 'Blue Peter' for over 3 years before leaving CBBC's flagship show in 2008. His time on Blue Peter saw him take on the most extreme, wonderful, scary and strangest challenges of his life. He flew with the Red Arrows and in a WW2 Spitfire. He's been attacked by an alligator in Louisiana, ridden the highest, fastest, tallest rollercoaster's in the world (he hates them!), was the first person to light a candle at Elvis's vigil to celebrate the 29th Anniversary of his death, performed the Canterville Ghost with the English National Ballet in front of 2,000 people. Skated the infamous Cresta Run in St Moritz. Fought as a Samurai Warrior in Japan. But his biggest moment was when he became the first civilian (and Blue Peter presenter) to finish the Royal Marine Commando 30 mile Yomp - he finished in a time of 8hrs 20mins… in about 7 pieces!

Gethin's other television projects included presenting a 'Police Camera Action' special for ITV1, 'Gethin Jones' Danger Hunters' for Virgin1 where he chased deadly weather around the world. 'E24', a weekly news entertainment/showbiz round-up for BBC News. 'The Gethin Jones Show' saturday and sunday mornings on Radio 5 Live. Gethin also narrated and presented BBC's Young Musician of the Year, live at Cardiff's Millennium Centre.

In 2010 Gethin took part in 'Soccer Aid' for ITV1 playing for the Rest of The World Team and hosted a new ITV1 series of 'Police Camera Action' before returning to Radio 5 Live with his own Saturday show, running for 7 weeks. He also hosted '71 Degrees North' for ITV1 and returned to Wales for a week long run in the musical Rocky Horror Show, acting as the Narrator.

Gethin is the face of Holland & Barrett, the UK's leading retailer of vitamins and mineral supplements.
You may also be interested in...