Jeremy Paxman
BBC television presenter (University Challenge, Newsnight, Panorama)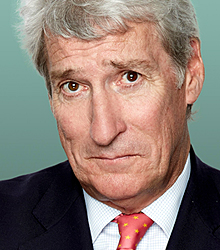 About
In 1979, Jeremy Paxman became a reporter on Panorama, where his assignments took him around the world. During this time he wrote (with Robert Harris) "A Higher Form Of Killing", an acclaimed history of chemical and biological warfare.

In the early eighties he reported for Panorama from El Salvador, Nicaragua, Lebanon, Israel, Thailand, Uganda, Poland, India, Rhodesia/Zimbabwe, Northern Ireland and frequently from the United States. His investigation into the mysterious death of Italian banker Roberto Calvi, "Called To Account", won the Royal Television Society award for international current affairs.

It was while travelling in El Salvador researching for his book about Central America, Through The Volcanoes, that he received a call inviting him to present the Six O'Clock News with Sue Lawley and Nicholas Witchell.

In the summer of 1985, he became the presenter of London Plus, moving to Breakfast News on its relaunch in November 1986. He joined BBC 2's Newsnight on the 1 October 1988, where he reports on the major events of the day as well as presenting special interest foreign reports.

Jeremy Paxman has also presented 'Behind the Headlines' and more recently the BBC series, 'Did You See...?' He currently presents University Challenge on BBC2 and Radio 4's Start The Week.
You may also be interested in...