Rt Hon John Bercow
Former Speaker of The House of Commons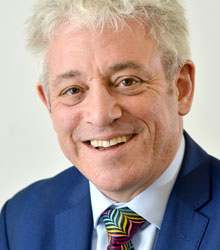 About
The Rt Hon John Bercow served as a Member of Parliament for 22 years, the last 10 of which were as Speaker of The House of Commons. When he retired on 31st October 2019, he had become one of the most recognisable and iconoclastic figures in British politics, and had created a vacancy of huge importance.

As Speaker since 2009, he had a ringside seat during one of the most febrile periods in modern British history, presiding over the Commons while it had to contend with key issues such as austerity in the light of the financial crisis; the coalition government between the Conservatives and Liberal Democrats; and of course the most intractable problem of all - how to deliver on the 2016 referendum decision that Britain should leave the EU.

He became a Conservative councillor in the London Borough of Lambeth in 1986 (until 1990) and serving from 1987 to 1989 as deputy leader of the 21 strong Conservative Opposition Group. At the time John was the youngest deputy group leader in the country.

He stood as Conservative candidate in Motherwell South in 1987 and for Bristol South in 1992. In 1995, John was appointed Special Adviser to the Chief Secretary to the Treasury and later served as special Adviser to the Secretary of State for National Heritage.

John Bercow entered Parliament in 1997 as Conservative MP for Buckingham. He was appointed Shadow Chief Treasury then Work and Pensions Secretary, but resigned to support the Labour Government's policy to allow unmarried gay and heterosexual couples to adopt.

In June 1999, he was appointed Front Bench Spokesman for Education & Employment. In July 2000, he was appointed Front Bench Spokesman for Home Affairs. In September 2001, he was appointed Shadow Chief Secretary to the Treasury. From July 2002 to November 2002, he was Shadow Minister for Work & Pensions. From November 2003 to September 2004, he was Shadow Secretary of State for International Development.

In September 2007, John was appointed by Ed Balls, Secretary of State for Children, Schools and Families, to lead a review of services for children and young people affected by speech, language and communication needs – which resulted in millions of additional funding.

John was appointed to the Speaker's Conference on Parliamentary Representation in November 2008. The Conference was asked to 'consider, and make recommendations for rectifying, the disparity between the representation of women, ethnic minorities and disabled people in the House of Commons and their representation in the UK population at large'.

He was elected as the 157th Speaker of the House of Commons on 22nd June 2009 and, having been re-elected three times over 10 years, he resigned the position on October 31st 2019.
Speech Topics
Having stepped down from Westminster, as a keynote speaker John Bercow shares his insights on the future of British politics and the lessons he has learned about implementing change.

John is also a seasoned raconteur with countless stories from his time treading the corridors of power. His after dinner speech is a characteristically forthright and incisive account of his unique vantage point into British politics.

Containing his verdicts on many of the leading figures of the era, from Tony Blair to David Cameron, Theresa May, and Boris Johnson, John Bercow explores and explains the ways in which he sought to democratise the business of Parliament, using the Speakership to champion the rights of backbench MPs and hold the government to account.
Tags for Rt Hon John Bercow
You may also be interested in...