Rt Hon Alan Johnson
Former Home Secretary and Labour Party MP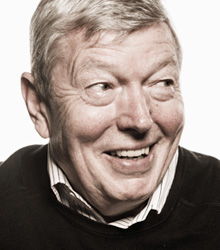 Copyright © Alison Robinson
About
Alan Johnson is a highly respected and personable figure on the British political scene, who served in both the Blair and Brown governments as Work and Pensions Secretary, Trade and Industry Secretary, Education Secretary, Health Secretary and Home Secretary.

Since retiring from politics he has gone on to become an award-winning author and highly sought-after public speaker. Alan's entertaining and passionate 2013 memoir This Boy won the prestigious Orwell Prize for non-fiction, and the sequels Please, Mister Postman (2014) and The Long and Winding Road (2016) were equally acclaimed. His fourth publication, In My Life: A Music Memoir, was published in 2018.

Born in 1950, Alan was orphaned at the age of 13 when his mother died; his father having previously absconded the family unit. He was then effectively raised by his elder sister, who herself was only 16, when the two were assigned a council flat by their child welfare officer. Alan passed the eleven-plus exam and attended Sloane Grammar school in Chelsea, now part of Pimlico Academy, where he left school aged 15.

Alan started his adult life working at Tesco and, having failed in his attempts to become a rock star, his first career move was to join the Post Office as a postman. He became a local official of the Union Of Post Office Workers, rising through the ranks to eventually become the Union's youngest ever General Secretary in 1992.

This exposure to politics contributed to his standing for parliament in the safe Labour seat of Hull West and Hessle in 1997. Alan held various junior ministerial roles until his appointment in 2004 as Secretary of State for Work & Pensions. In May 2006, following the local elections, his role was changed to that of Secretary of State for Education and Skills.

In Prime Minister Gordon Brown's first Cabinet, in June 2007, Johnson was appointed as Secretary of State for Health. During a reshuffle two years later he was selected to be Home Secretary, becoming Shadow Home Secretary when the Conservatives won the general election in 2010. He briefly held the post of Shadow Chancellor of the Exchequor in Ed Milliband's first shadow cabinet.

Alan says his greatest political achievement is the successful campaign for the British Fishermen's Association which helped secure their claim for compensation, 25 years after distant water trawlermen had their industry destroyed by the agreement that the government reached with Iceland to end the so-called Cod Wars.

In the media, Alan Johnson appears regularly on political programmes such as Question Time and This Week alongside Andrew Neil and Michael Portillo, while showing a more humorous side with guest presenter appearances on Have I Got News For You, alongside documentaries including Alan Johnson: The Post Office and Me.

Alan has served as a Director of Unity Trust Bank, on Labour's National Executive Committee and on the Council of the TUC and of Ruskin College, Oxford. Following 20 years as a Member of Parliament, Alan stepped down in 2017, but remains an active voice in British politics.
Speech Topics
An engaging and charismatic speaker, Alan Johnson possesses the rare ability to present both serious political content and witty, light hearted current affairs based humour with equal skill.

Whether he's required to present an informal and entertaining after dinner speech about his life in politics, and anecdotes from his time in Westminster, or a high-level keynote speech about policy making, the European Union or electoral reform, with such a wide range of government experience during his 20 years as a politician, Alan resonates with all manner of audiences.
Books and DVDs
Clients often ask about purchasing books for giveaways and delegate packs. Below you'll find a selection of products by Rt Hon Alan Johnson. Click the images to view on Amazon's website. For bulk orders, please speak with your Booking Agent.
Tags for Rt Hon Alan Johnson
You may also be interested in...