Rt Hon Dame Margaret Hodge DBE MP
Labour MP and former Under-Secretary of State for Employment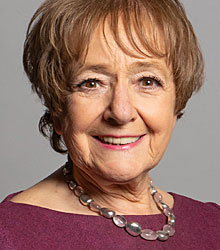 Copyright © Richard Townshend
About
Dame Margaret Hodge has been the Labour Member of Parliament for Barking and the heart of Dagenham since 1994. She held several government positions in the last Labour government, with portfolios across education, employment, business and culture.

She was educated at Bromley High School and Oxford High School, before obtaining a BSc degree in Economics from the London School of Economics in 1966. Prior to entering politics, Margaret worked in international market research and public relations at EMRB, a subsidiary of J Walter Thompson, from 1966 to 1973. Then between 1992 - 1994, she was a senior Public Sector consultant at Price Waterhouse Coopers.

Education — Margaret was Chair of the education Select Committee 1997-98 and Under-Secretary of State for Employment and equal opportunities, with responsibility for disability policy and childcare from 1998-2001. She also developed the policy framework for the disability discrimination legislation and developed Sure Start and the National Childcare policy.

Other Government positions within education include Minister of State for Lifelong Learning, Further Education and Higher Education: 2001-2003 and undertaking the policy work to develop the legislation on higher education funding.

She was the inaugural Minister for Children (2003-2005), developed Every Child Matters and created universal nursery education with the first curriculum framework for the under fives.

Employment — As the Minister of State for Work in DWP between 2005-2006, Margaret Hodge developed the early work in encouraging those locked into long-term disability benefits to get back into work. She was also responsible for the implementation of the New Deal for Lone parents.

Between 2006-07, she was Minister of State for Industry and the Regions, where she steered through Parliament the Companies Act – the longest bill ever to be considered by Parliament. Margaret incorporated new provisions embedding corporate social responsibility into the Act and worked on promoting and supporting women in the labour market, establishing specific structures for women in SMEs that are still in place today.

Culture — Margaret was the Minister of State for Culture, Creative Industries and the Regions between 2007-2010, where her most lasting contribution was to set up a bursary scheme with the Jerwood Foundation for graduates who want to work in the cultural sector but who have no financial backing and have been exempted from tuition fees. The bursary gives them a year after graduation to try to succeed in a very tough industry, be it music, theatre, dance or art. She also drove through changes to bring more women onto the boards of our cultural institutions.

Outside of politics, she has been Chair of Theatre Royal Stratford East since 2016, a theatre boasting the most diverse audience of any mainstream theatre and working hard to have a diverse workforce both on and off stage.

Accountability — In 2010, Margret Hodge became the first elected and first female Chair of the Public Accounts Committee, serving until 2015. A cross-party committee chaired by a member of the opposition but reflecting Parliament and so ensuring a built-in Government majority. Notwithstanding, the committee produced 246 unanimous reports in 5 years and only failed to agree on one issue.

Through this committee, Margaret was able to place the issue of tax avoidance on the wider political agenda and successfully raised the profile of value for money for public expenditure.

Margaret Hodge was appointed a Member of the Order of the British Empire (MBE) in 1978 for her work on housing in Islington. She was appointed to the Privy Council by Tony Blair and promoted to Dame Commander of the Order of the British Empire (DBE) in the Dissolution Honours List of 2015.
Speech Topics
As a Member of Parliament since 1994 and former government minister with portfolios across education, employment, business and culture, Dame Margaret Hodge is a highly experienced, insightful and sought-after speaker who will resonate with almost any audience.

With interests that are far-reaching, she speaks candidly and knowledgeably on a broad range of topics; whether it's giving a light-hearted after dinner speech or delivering a keynote presentation at a conference.

After Dinner Speaking
For light-hearted after dinner speeches, Margaret usually presents a précis talk about her life and political career; offering a wealth of anecdotes from decades treading the corridors of power at Westminster, she is an entertaining, humorous and captivating speaker.

Keynote Speaking
Comfortable addressing conferences and summits of all sizes and industries, Margaret speaks on a number of topics. Whether it's drawing on her extensive experience in taxation and her 2017 book Called to Account: How Corporate Bad Behaviour and Government Waste Combine to Cost us Millions

From responsible taxation and themes such as 'the future of tax after Brexit' and 'tax as an effective competitive tool', to accountability in government',
Tags for Rt Hon Dame Margaret Hodge DBE MP
You may also be interested in...