Sir Michael Wilshaw
Former HM Chief Inspector of Schools at Ofsted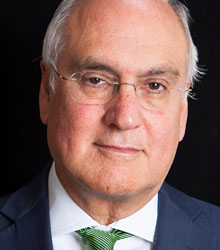 About
Sir Michael Wilshaw served as Her Majesty's Chief Inspector of Education, Children's Services and Skills and was the head of Ofsted from January 2012 to December 2016.

Prior to his position at Ofsted, Michael had a distinguished career as a teacher for 43 years – 26 of these as a head teacher in London secondary schools. Most recently of which was as the Executive Principal at Mossbourne Community Academy in Hackney, where he was credited with turning a school situated in one of the most deprived parts of London into one of the best performing in England.

Born at the foothills of the Himalayas, Michael lived in India until he was two. His family then relocated to south west London where he would eventually attended Clapham College, a Catholic boys' grammar school run by Xaverian brothers – as one might expect for someone who later became known for his strict behaviour policies.

Michael began his teacher training aged 18 and was soon placed into first teaching job, a school in Dock Head, south London, primarily teaching the children of dockers. From there he was promoted rapidly and had moved into senior roles by his 30s, becoming head teacher at St Bonaventure's, Forest Gate, east London, before his 40th birthday.

After 18 years at St Bonaventure's he moved 'down the road' to Hackney in 2003, as the executive principal of the newly opened Mossbourne Academy. It was one of New Labour's first academies and built on the same site as the infamous Hackney Downs.

When Michael arrived at Ofsted, only seven in 10 primary schools were rated good or better and the organisation's reputation was near the floor. At teacher conferences, anyone uttering the "O" word could feel the audience's unrest. In fact, schools were confused, having suffered decades of endless fiddling with complicated and inconsistently applied rules; contracted inspectors, hired via third-party companies, varied in quality: some were even caught copying and pasting reports, and selling extra wares for high fees; and training of inspectors was patchy.

However, after five years under Sir Michael Wilshaw's leadership, Ofsted was no longer in a mess and the rating of good or better for primary schools was nine in 10; something he attributed to Ofsted's hard work and the introduction of greater demands into the system and higher expectations from school heads.

Additionally, inspectors were now trained in-house; they were banned from selling consultancy services, restoring faith in Ofsted's independence; and a new framework made it clearer what was expected of schools.

Parents now like the organisation, with surveys run by inspectors showing that 95% of parents know the brand and 88% believe its reports are reliable. Half of all parents have read an Ofsted report in the past year.

Upon stepping down from his position at Ofsted, in January 2017 Sir Michael Wilshaw was appointed to the board of the Education Policy Institute, a Westminster-based research institute that aims to promote high quality education outcomes for all children and young people, regardless of social background.

He was knighted by Her Majesty the Queen in the 2000 New Year Honours for services to education.
Tags for Sir Michael Wilshaw
You may also be interested in...