The Rt Hon. Michael Portillo
Political commentator, broadcaster and former Conservative cabinet minister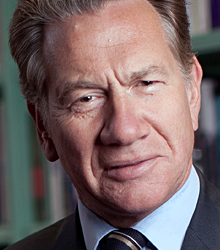 Copyright © Jason Alden
About
The Rt. Hon. Michael Portillo has enjoyed a high-profiled political career, established very quickly following his election to Parliament in 1984.

His first Ministerial post came in 1988 when he was appointed Minister of State for Transport. He was Minister of State for Local Government from 1990 to 1992. Following the Conservative victory at the 1992 General Election, he was appointed a Cabinet Minister and stayed within the Cabinet for the entire duration of the second Major Government.

He has held appointments as Chief Secretary to the Treasury, Secretary of State for Employment and Secretary of State for Defence. He left Parliament in May 1997 and successfully cultivated a broadcasting career before returning to the House of Commons as the MP for Kensington & Chelsea.

In February 2000, he was appointed Shadow Chancellor of the Exchequer by Conservative leader William Hague. He contested the leadership of the Conservative Party in the summer of 2001 before stepping down from front bench politics and is therefore available for corporate engagements.

A highly entertaining and engaging speaker, Michael Portillo delivers keynote conference presentations in addition to speaking at dinners and banquets as a more informal after-dinner speaker. He is a professional chairperson or host who is able to command attention and establish a good rapport with any audience. His particular areas of expertise include the Conservative Party, defence, economics, international affairs, and public finance.

He continues to be featured widely in the broadsheets and is a frequent commentator on current affairs and political issues on national television and radio.
Testimonials
Considering booking The Rt Hon. Michael Portillo for your event? You may find the following client testimonials and comments helpful. To enquire further about The Rt Hon. Michael Portillo for corporate and private bookings, click here or call us on +44 (0)1372 361 004.
On behalf of the Functions Committee, we would like to take this opportunity of thanking you for your very interesting, amusing and informative words at the Emunah Summer Lunch this week. Everyone present greatly appreciated your visiting every table enabling many people to speak with you personally and to have their photo taken with you. Thank you once again.
We were delighted to have Michel Portillo as our after dinner speaker at the BMA Research Grants Awards Ceremony 2013. He hit just the right note and the feedback from our guests has been universally excellent. Of course, it's not just about the jokes; it is about the delivery and the rapport with the audience. All these elements were in place last evening. Thank you.
I would appreciate it if you could pass on our sincere thanks to Michael Portillo. He was a very engaging speaker and entertained our audience fully for 30 minutes. In addition he dealt professionally with our Q&A and mingled with our guests.
Books and DVDs
Below you'll find products by The Rt Hon. Michael Portillo which may be available for purchase. Click the image to view on Amazon's website. Clients often like to purchase books and other merchandise as autographed give-aways at events where The Rt Hon. Michael Portillo is appearing. For bulk purchases, please speak with the Booking Agent handling your event.
Tags for The Rt Hon. Michael Portillo
You may also be interested in...