Andrea McLean
TV presenter (Loose Women, GMTV)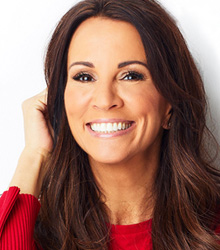 About
Andrea McLean is one of the primary anchors on the award-winning ITV lunchtime talk show Loose Women.

Before she joined the show in 2007, Andrea was best-known as one of the core team of presenters on the ITV breakfast programme GMTV. Andrea left the show after 11 years to concentrate on Loose Women and enjoy the benefits of a full night's sleep!

Andrea started her career as a freelance travel writer, then became a writer/sub for Central Press Features based in London. Since then Andrea has gone onto write for Red, Best, Scottish Woman and numerous weekly women's magazines. She currently writes a popular weekly interior design column for The Mirror newspaper and is a freelance writer for the online women's magazine Standard Issue.

In 2012 Andrea wrote her autobiography Confessions Of A Good Girl which spent two weeks at No. 1 in the Sunday Times Best Seller list. It covered her life growing up on a sugar plantation in the Caribbean, travelling the world as a young backpacker and embarking on the adventurous life of a television presenter.

In 2018 Andrea's book 'Confessions Of A Menopausal Woman (Everything You Want To Know But Are Too Afraid To Ask)' was released.

Andrea graduated with a BA Hons in Modern Studies (History, Politics and International Relations) at Coventry University in 1991. She then went on to backpack around the world, from India and the Far East to Australia and America, taking on jobs as diverse as a grill chef, barmaid, receptionist and factory worker.

Andrea has worked across many blue-chip brands and events and is in demand as a corporate event and awards host.

Andrea McLean was born in Scotland but was raised in Trinidad and Tobago. She moved back to the UK when she was 15 and now lives in Surrey with her husband and two children.
Exclusive Interview
As part of our NMP Live Meets... interview series, Andrea McLean took time out of a busy schedule to sit down with us for an exclusive chat. Watch the video below and find out what she can bring to your event.
You may also be interested in...