Help & Advice
Ask us a Question
From questions about booking speakers, presenters and performers, to the contractual process and what you can expect on the day; with 20 years experience and standing at the forefront of our industry we've hopefully thought of, and answered, most common queries. But if not, please call us and one of our experienced agents will be very happy to help you.
I want to host a corporate comedy night, can you help me?
Whether you're thinking of recreating the feel of a night at London's world-renown Comedy Store or simply want to get more 'bang for your buck' than spending the entire entertainment budget on one celebrity headliner, NMP Live can plan a whole evening of first-class stand-up comedy entertainment for you.
What better way to enjoy a memorable evening of fun and comedy with your colleagues than being entertained by not just one top comic, but a carefully selected line-up of talent featuring the best-of-the-best from the UK comedy circuit?
And by not putting all your eggs in one basket and booking a single act, introducing a number of comedians throughout the evening will ensure there's something for everyone.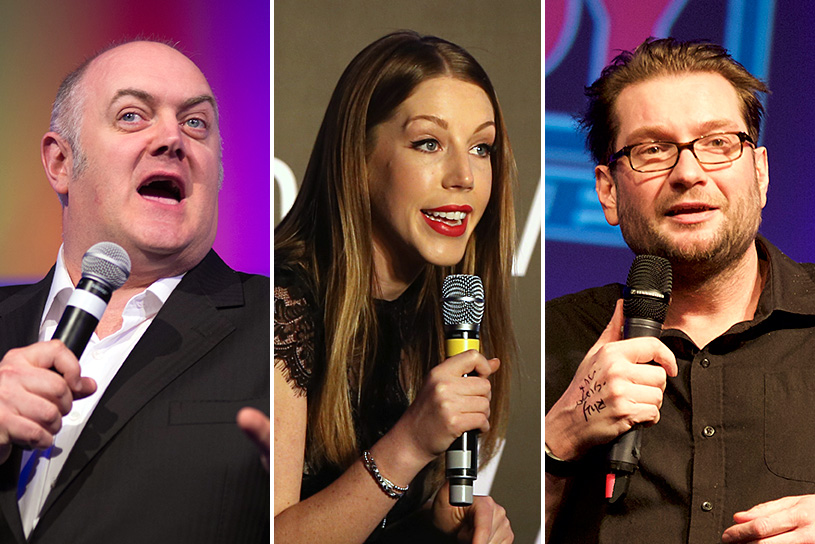 The budget you have available will determine the calibre and celebrity profile of the comedians we can assemble for you, and there are numerous combinations to consider; one or two 'up-and-coming' acts followed by a celebrity comedian to headline? Or perhaps opt for the traditional comedy club set-up of a compere and three acts, none of whom need to be particularly well-known.
Whatever you decide is right for your venue and audience, NMP Live boasts a large and impressive roster of stand-up comedians, charging from as little as a few thousand pounds to household name celebrities commanding into six-figures.
Speak with one of our experienced booking agents to discuss your next unforgettable night of comedy.