Help & Advice
Ask us a Question
From questions about booking speakers, presenters and performers, to the contractual process and what you can expect on the day; with 20 years experience and standing at the forefront of our industry we've hopefully thought of, and answered, most common queries. But if not, please call us and one of our experienced agents will be very happy to help you.
How much do after dinner speakers cost?
If you're thinking of booking an after dinner speaker then you've come to the right place. As a speaker bureau, we've been booking professional speakers for over two decades and have an enviable roster featuring hundreds of names, from all industries and walks of life. So we're pretty confident we'll have the perfect speaker for you.
But how much do after dinner speakers cost? What's the average fee? And how much should I be paying?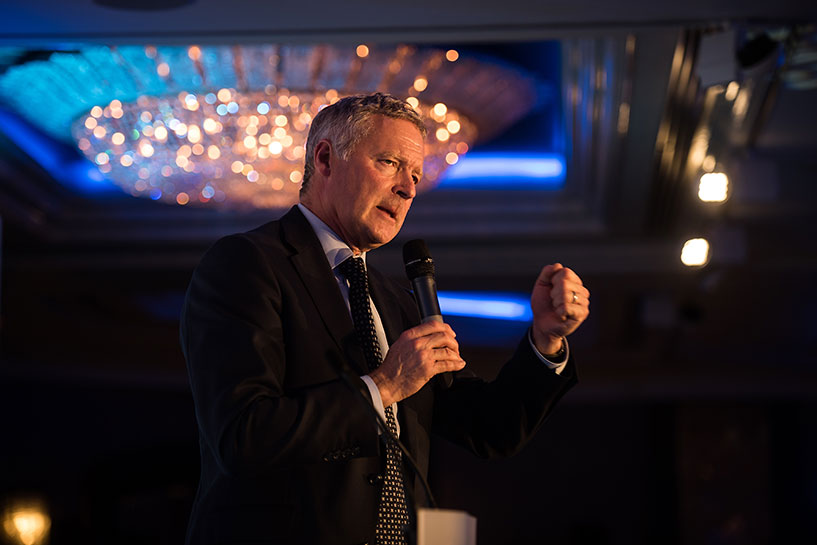 One of your first and most important considerations will be deciding how much you can afford to spend. Fees for professional speakers vary enormously. From a few thousand pounds at the lower end to six-figure sums for global A-list names.
Firstly, consider if the profile of your speaker will have any bearing on the potential success of your event. Are they going to be a hook and a reason for guests attending, selling tickets or putting bums on seats?
If so, a popular celebrity name will certainly be a wise choice. But if your guests will be attending anyway, perhaps a less well-known name may be the answer. And we can suggest names just as professional and entertaining, but at a fraction of the cost.
What do after dinner speaker fees start at?
We have a small handful of speakers whose fees start at around £2000, but typically you should budget upwards of £2500-£3500 for a good and experienced professional after dinner speaker. This will give you a wide choice of first-class, engaging and entertaining but, nevertheless, largely unknown names.
We have a broad selection of after dinner speakers in this fee range. Ideal for some of the larger association events, sports club dinners and fundraising nights. Browse all of our after dinner speakers up to £5000.
How much do celebrity speakers cost?
Beyond a certain point, the fee you pay won't necessarily guarantee the speaker will deliver a better performance on the day, or be more experienced. But what it will afford you is someone with a bigger media profile and a certain level of kudos, gravitas and "celebrity cachè".
Typically, for after dinner speakers with a current media profile and regularly appearing on television, you'd need to consider a budget in the region of £5,000 and upwards. For the more popular better known and sought-after names, expect fees in excess of £10,000, and for A-list instantly recognizable names, you'll need to budget for fees of £25k+. Browse all after dinner speakers between £6000 and £25k.
How much do A-list speakers charge?
For A-list after dinner speakers fees can vary hugely. You can expect to pay upwards of £25,000 for a household name UK celebrity who's instantly recognisable. They're incredibly sought-after busy individuals and their time is highly valuable. If you're looking for an internationally known sports star, business personality or Hollywood actor, fees can often extend well into six figures. View our roster of A-list speakers for hire.
Speakers for local groups, societies and associations
At NMP Live we typically book after dinner speakers for corporate and private events, both nationally and internationally. We only work with the very best speakers who will often make their living exclusively from speaking.
If your budget won't stretch to booking a professional after dinner speaker, you may find someone local. Perhaps a local businessman or woman, or someone who's passionate about their interesting job or unique hobby.
For such individuals, they will often speak for expenses only, a charitable donation or as little as a few hundred pounds. An internet search or your local library may be a good place to start your research.
Can I get a discount for a charity event?
Very few speakers have what would genuinely be classed as quotable 'charity rates'. For events that are actually hosted by registered charities, most speakers will look favourably upon the fee and be willing to accept a slight reduction. Just as with any other booking though, many factors come into play: the location, timings and other specifics of the opportunity all impact what fee the speaker may consider.

In any event, if you're attempting to book an after dinner speaker without using a bureau it can be a long, drawn-out and painful process. Researching suitable speakers, establishing their fees, knowing who to approach and finding the rights contacts is an arduous task. When you're working with a limited charity budget, it's all the more difficult.

Contact NMP Live with your brief and budget — we'll take all of the stress and hard work away to give you the best possible advice and personalised suggestions, all FREE OF CHARGE. We will always do our best to meet your budget and where possible secure a speaker for a favourable rate for you.
For further information, see our guide to working with schools, charities, and not-for-profit organisations.
Are there any additional costs to consider?
Generally, on top of the speaker's fee, you can expect to pay VAT, return travel costs and overnight hotel accommodation, if required. You will also be expected to provide a microphone (lapel or handheld) and a first-class PA system appropriate to the venue and size of the room. Click here for further information regarding expenses and find out how we can help you to limit and manage costs upfront.
NMP Live's fee groups
Fees for after dinner speakers can vary depending on the specifics of a brief, nature of an event and location. For this reason, it's simply not possible to quote specific figures online. However, to help narrow your search, we have placed every speaker on the website into one of six fee groups. These fee groups are based on typical events within the UK. So when browsing the website you can filter the results to match your budget. The groups are quite broad, but will provide a ballpark indication and are a good starting point for you.
For more accurate fee guides, please contact us with the specific details of your event. To start your search online, click here to browse our extensive roster. Browse speakers by category and refine the results by tags, gender, video available and fee.
For personalised recommendations, send us an enquiry via the website or call or email one of our friendly agents for free, no-obligation advice and suggestions.