Mariella Frostrup
Presenter, broadcaster, journalist and critic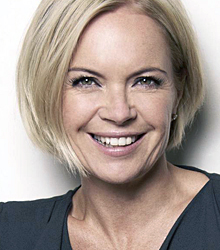 About
Mariella Frostrup is a writer and broadcaster, firmly established as an intelligent and accessible commentator in a wide range of television programmes and publications. She is currently best known as presenter of Radio 4's long-running weekly programme Open Book, Sky Arts Mariella's Book Show and The Big Painting Challenge on BBC1.

Born in Oslo, Norway, Mariella moved to Ireland when she was six, where she spent her formative years, before relocating alone to London in 1977 aged just 16 and not knowing a sole. There, following a series of mac jobs, cleaning a pub, waitressing, working in a doctors surgery and many sobering moments when homelessness threatened to be the next option, all of a sudden an opportunity presented itself to become a trainee in PR. Mariella worked her way up the ladder to become a music PR executive for Phonogram Records during the 1980s and 90s; marshalling PR for the Live Aid concert at Wembley in 1985 and promoting bands of the day from Dire Straits to UB40, Bananarama to the Boomtown Rats.

After leaving Phonogram, Mariella broke into the world of television as a presenter and film critic, making her debut on Channel 4 when they wanted a new face for their groundbreaking music show, Big World Cafe. The rest may not be history but it certainly was the beginning of an interesting career trajectory that involved a lot of battling, to be credited with a brain, to be considered capable and finally, after years as a book lover, the proudest moment of Mariella's life when she was asked to judge the Booker Prize for Fiction. Not bad for a tear-away teenager who left school too young.

Mariella Frostrup has reviewed films, been an arts critic and presented television shows on books, film and current affairs. Passionate and knowledgeable about all the above, as well as politics, she has, over her career, interviewed many famous figures from Paul McCartney to Archbishop Desmond Tutu, Sigourney Weaver and Timothy Dalton to George Michael and Phil Collins, Susan Sarandon to Nick Clegg. In 2017, she interviewed former US Secretary of State and First Lady Hillary Rodham Clinton at the Cheltenham Literary Festival, and probed her about the previous years' US Presidential Election Race, her career, world issues, and family life.

Mariella has also presented BBC Panorama documentaries on Reality TV and the housing crisis, and hosted a long-running books programme on BBC Radio 4 Open Book along with the recurring series Bringing Up Britain.

Mariella has been on the judging panels of various awards including The Booker Prize, the Orange Prize for Fiction, the Evening Standard Film Awards, the Turner Prize, the Amnesty International Media Awards, the London Film Festival, the BBC National Short Story Award and the RIBA Stirling Prize Awards.

Journalism is Mariella Frostrup's other 'job', and over her career she's written for almost every mainstream UK newspaper and many magazines from The Times and Sunday Times, Daily Mail, Mail on Sunday to Harpers Bazaar and Vanity Fair. She's the Observer newspapers erstwhile Agony Aunt and also a contributor to 'Family Traveller' magazine. In 2008, Mariella received an Honorary Degree of Doctor of Letters from Nottingham Trent University in recognition of her contribution and commitment to journalism and broadcasting.
Testimonials
Mariella Frostrup was a great host setting just the right tone for our awards, generating an atmosphere of fun and excitement, whilst presenting in a professional and confident manner. Her relaxed style put winners, not used to being interviewed, at ease.
Mariella Frostrup was authoritative and knowledgeable about the nominated films and her opening remarks were moving, funny and perfectly suited to the audience. She was a true professional and we wouldn't hesitate to work with her again.
You may also be interested in...