Mariella Frostrup
Television presenter, broadcaster and journalist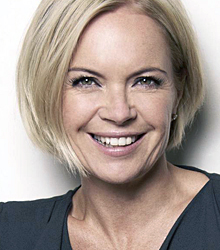 About
Mariella Frostrup is a writer and broadcaster, firmly established as an intelligent and accessible commentator in a wide range of programmes and publications. She is currently best known as presenter of Radio 4's long-running weekly programme Open Book, and until recently presenter of Sky Arts "Mariella's Book Show".

Born in Oslo, Norway, Mariella grew up in Ireland before moving to London in 1977. There, she worked as a PR executive for Phonogram Records between 1980 and 1990, marshalling the PR for the Live Aid concert at Wembley in 1985. After leaving Phonogram, she swiftly broke into television as a presenter and film critic.

Recent broadcasting projects include SexBox on Channel 4, an innovative format in which couple discuss their feelings and sensations about their love life after having sex; Bringing Up Britain, the Radio 4 series which looks at the challenges of modern parenting; and Objects of Desire for Sky Arts, a 6 part series exploring the world's most desirable objects.

Mariella has had her own weekly agony column, Dear Mariella, for the Observer newspaper for the last 10 years, and writes regularly for other newspapers and magazines. She is passionate and knowledgeable about the arts, including film, literature, music and popular culture, as well as politics and current affairs, and over her career has interviewed many famous figures from Paul McCartney to Archbishop Desmond Tutu, Sigourney Weaver and Timothy Dalton to George Michael and Phil Collins, Susan Sarandon to Nick Clegg.

Mariella Frostrup has been on the judging panels of various awards including The Booker Prize, the Orange Prize for Fiction, the Evening Standard Film Awards, the Turner Prize, the Amnesty International Media Awards, the London Film Festival, the BBC National Short Story Award and the RIBA Stirling Prize Awards.

In 2008, she received an Honorary Degree of Doctor of Letters from Nottingham Trent University in recognition of her contribution and commitment to journalism and broadcasting.

Mariella Frostrup is much in demand as a live events presenter, awards host, and, with her 'gravelly' voice — once voted the sexiest female voices on TV — a popular voice over artist. She appears regularly on radio and television panel and chat shows.
Testimonials
Considering booking Mariella Frostrup for your event? You may find the following client testimonials and comments helpful. To enquire further about Mariella Frostrup for corporate and private bookings, click here or call us on +44 (0)1372 361 004.
Mariella Frostrup was a great host setting just the right tone for our awards, generating an atmosphere of fun and excitement, whilst presenting in a professional and confident manner. Her relaxed style put winners, not used to being interviewed, at ease.
Mariella Frostrup was authoritative and knowledgeable about the nominated films and her opening remarks were moving, funny and perfectly suited to the audience. She was a true professional and we wouldn't hesitate to work with her again.
Books and DVDs
Below you'll find products by Mariella Frostrup which may be available for purchase. Click the image to view on Amazon's website. Clients often like to purchase books and other merchandise as autographed give-aways at events where Mariella Frostrup is appearing. For bulk purchases, please speak with the Booking Agent handling your event.
Tags for Mariella Frostrup
You may also be interested in...