Will Gompertz
BBC Arts Editor and former Director of the Tate Gallery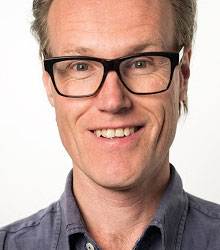 About
Will Gompertz is the BBC Arts Editor and a respected commentator on The Arts.

Voted one of the World's Top 50 Creative Thinkers by New York's Creativity Magazine, Will was previously a Director of The Tate Gallery for 7 years until 2009, where he was responsible for Tate Online - the UK's most popular art website, where he worked with an extraordinary team of dedicated editors and programmers who won numerous awards including a Bafta and a Webby.

Whilst at the Tate he set up a TV production unit, making arts programmes for Channel 4 and ITV and finalised a movie deal with Aardman Animation shortly before leaving. He also created Tate Etc, the UK's highest-circulation art magazine.

Will Gompertz began his life in the arts just below the bottom rung of the ladder as an 18-year-old shop assistant in Our Price Records. This was followed by stints as a holiday camp entertainer (at the same place where Hi-De-Hi was filmed), as a stagehand at Sadler's Wells theatre and as a runner for a television production company.

In his early twenties, Will co-founded "Shots", a global magazine/DVD covering short films, pop promos and commercials (which he eventually sold and is now owned by Emap). And for the past 20 years he has published, edited and written about the arts for a range of publications including the Times and the Guardian. Will has advised many arts and media organisations and was a board member of the National Campaign for the Arts. His first book "What are you Looking At? 50 Years of Modern Art in the Blink of an Eye" was published by Penguin in 2012.

Will Gompertz joined the BBC in December 2009 and one of his first televised reports was on the Andrew Lloyd Webber musical Love Never Dies in March 2010. Also in the summer of 2009, Will wrote and performed a one-man show at the Edinburgh Fringe called Double Art History, a light-hearted lecture on the story of modern art. The show was a sell-out; but, as his friends were quick to point out, it was a very small venue!
Testimonials
Will Gompertz is the best teacher you never had.
Will Gompertz is a natural communicator whose passion for art is expressed with wit and verve.
You may also be interested in...