Tim Marlow
Art historian, writer, editor and broadcaster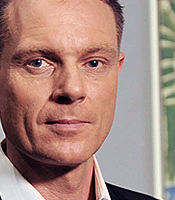 About
Tim Marlow is an editor, writer, broadcaster and art historian. In 1993 he founded TATE: THE ART MAGAZINE, Britain's biggest-selling art magazine which he continued to edit until last year. From 1991 until 1998 he presented BBC Radio 4's flagship arts programme, KALEIDOSCOPE, for which he won a Sony Award.

He has also presented NIGHTWAVES on Radio 3, SATURDAY REVIEW on Radio 4 and MERIDIAN on the BBC's World Service as well as writing and presenting numerous documentaries across the BBC radio network most recently THE HISTORY OF THE HOT DOG and SUNFLOWERS for Radio 4.

He has been the London correspondent for ON THE ARTS, CBC Canada's weekly arts programme and a regular contibutor to EXPRESS for ABC Australia. He has also been a consultant for The Late Show and Close Up on BBC 2 and has acted as a consultant and co-written documentaries for Omnibus on BBC1.

Tim Marlow is the author of two books on the French sculptor Auguste Rodin and the Austrian expressionist Egon Schiele as well as writing numerous catalogue essays for major living artists including Anthony Caro, Helen Frankenthaler, Stephen Cox, Julian Opie, John Gibbons, Grenville Davey, David Mach and Mark Francis. He has written extensively on art and culture in the British press including the Times, the Guarian, the Independent on Sunday and Arena, Scene, Art Monthly and Blueprint magazines.

He has taught in numerous art galleries, art schools and universities around Britain and has lectured for the British Council in Holland, France, Germany, Hungary, Cyprus, Japan, Thailand and Australia.

Tim Marlow is visiting lecturer at Winchester School of Art and an examiner on the Sculpture MA. He is the Creative Director of Sculpture at Goodwood and also a member of the Visual Arts Advisory Board for the Arts Council of England.
Books and DVDs
Clients often ask about purchasing books for giveaways and delegate packs. Below you'll find a selection of products by Tim Marlow. Click the images to view on Amazon's website. For bulk orders, please speak with your Booking Agent.
You may also be interested in...