Claudia Winkleman
One of Britain's most in-demand and popular TV presenters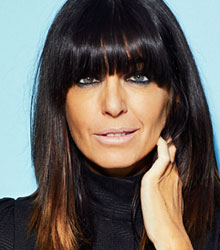 Copyright © ITV
About
Claudia Winkleman is one of the most sought after television presenters working today.

She presents the popular BBC2 show Strictly Come Dancing It Takes Two and also hosts Claudia Winkleman's Arts Show on BBC Radio 2 at 10pm every Friday evening and Hot Gossip, also for Radio 2.

Now a regular face on prime time BBC1, Claudia teamed up with Graham Norton to present Eurovision Dance Contest. She also fronted Eurovision-Your Decision, for BBC1 with Sir Terry Wogan. In August 2008 she hosted London 2012 Party live from the Mall – celebrating the Olympic handover.

In 2007 and 2008 she hosted the live coverage of the Academy Awards for Sky Movies Premiere She has co-presented Sport Relief and Comic Relief Does Fame Academy both on BBC1, and the live coverage of Concert For Diana on BBC3. She has also presented All New House of Tiny Tearaways and Liquid News both for BBC3.

She has presented Central Weekend Live, a live topical studio discussion show for Carlton Television and BBC 1's Holiday programme where her charm and acerbic tongue earned her her own spin off programme - an hour long prime time special which took her around the world in 34 days reporting from Japan, India, Costa Rica and Dubai.

Claudia loves to write, she has a weekly column in the Independent. She is a regularly contributor to the Sunday Times, Glamour and Cosmopolitan. She graduated from Cambridge University with an MA Hons in History of Art.

Claudia is a popular choice of presenter for corporate award ceremonies.
Testimonials
I just wanted to send you a personal email to let you know how great Claudia was! She was the most down to earth, laid back nicest person to work with! All the girls on my team loved working with her. The feedback we have had on her hosting the show has been great and she presented the awards perfectly with a speedy, cheeky great personality! I hope she enjoyed the evening as much as we did. We would love to work with her again in the future...
Claudia was fabulous and everyone thought she was the perfect co-host. We really thought she was great – extremely warm and the crowd loved her!"
Thanks so much... Claudia was really great, she really did pull it off brilliantly! She had them eating out of the palm of her hand from the very start. I thanked her on the night, but please convey our most sincere thanks to her again.
Claudia did very well. She had them eating out of her hands, she was very respectful of the industry and created a great atmosphere. Please thank her from all of us; we would love to work with her again.
Tags for Claudia Winkleman
You may also be interested in...