Sue Perkins
Television presenter, comedian and comedy writer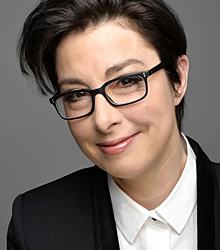 Copyright © Piers Allardyce
About
Sue Perkins began her career as one quarter of double act Mel and Sue. They first found fame on Channel Four's daytime show, Light Lunch, which ran for five series before transferring to an evening slot with the imaginatively titled, Late Lunch. Together they jumped, shouted and gurned through countless hours of television, marking the start of a double act that has lasted for seventeen years.

Sue has written for French and Saunders and Ab Fab, as well as countless radio series. As a solo performer, she presented three series of the Sky film show, Movie Babylon, and two series of Good Evening Rockall for BBC3.

For Edinburgh 2005/06 Sue performed two full-length stand-up shows, Spectacle Wearer of the Year and The Disappointing Second Show, which have toured extensively to sellout crowds. Sue went onto be crowned, The World's Greatest Liar in a hard fought contest in a pub in Cumbria (BBC Radio 4).

Sue has appeared on many shows including Have I Got News For You (BBC1), 'Never Mind the Full Stops (BBC4), Clive Anderson's Chat Room (BBC2), It's Been A Bad Week (Radio 2) The Personality Test (Radio 4) and Argumental (BBC2). Sue is a regular contributor to Newsnight Review (BBC2), Just a Minute (Radio 4), QI (BBC1), Count Arthur Strong (Radio 4) and The News Quiz (Radio 4).

In August 2008 Sue Perkins appeared in the TV talent show television series Maestro on BBC Two. Sue won the competition with her mentor conductor Jason Lai and conducted the orchestra at Proms in the Park, part of the BBC's Last Night of the Proms Her "Maestro" section of the programme was broadcast live from Hyde Park, London on 13 September 2008, in front of a crowd of more than 30,000.

2009 was a very busy year for Sue, hosting the Channel 4 panel game The Big Food Fight and presenting The Art on Your Wall for BBC 2 where Sue charted the changes in British taste towards domestic art.

2010 saw Sue reunite with original presenting partner Mel Giedroyc in The Great British Bake Off. The BBC 2 series aimed to find the best amateur baker. Other television appearances include The Bubble, QI, and Pet Nation. Sue has recently been asked to host two big awards ceremonies and has done so with great success. She hosted the fifth annual Stonewall Awards and the previous week saw her hosting the BFI London Film Festival Awards.

Sue writes a monthly column for BBC Homes and Antiques.
Testimonials
Sue Perkins was a fantastic host for the inaugural Small Awards in May 2017. She was fun, interesting and inspiring, setting a perfect tone for the event. Sue's presentational style struck the ideal combination of relaxed humour with appropriate respect for and appreciation of the winners. She made lots of time to meet the award nominees and winners and came across as both impressive and approachable. Thank you for a special evening!
You may also be interested in...