Jimmy Carr
One of the most original and distinctive stars of British comedy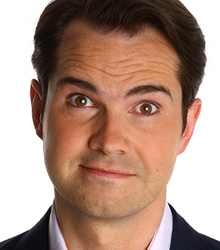 About
One of the most original and distinctive stars on television, as the face of Channel 4, Jimmy Carr has many successful shows behind him, including '8 out of 10 Cats', 'The Friday Night Project', two series of 'Distraction' and 'Your Face Or Mine'. Jimmy has also broken into US TV with 3 appearances on 'The Tonight Show with Jay Leno', 2 on 'Late Night with Conan O'Brien' and his own 12 part series of 'Distraction' on Comedy Central.

Jimmy Carr's UK television guest appearances include 'Friday Night with Jonathan Ross' (BBC1, Nov 04), Top Gear (BBC2, Nov 04), 'Des O'Connor Comedy Tonight' (ITV, Aug 03) 'Have I Got News For You' (as panellist, BBC2, May 03), 'The Royal Variety Show' (BBC1, Dec 02) and 'Peter Cook: A Posthumourous Tribute' (BBC2, Dec 02).

Jimmy is a prolific writer as well as performer, with writing credits including Bo Selecta! (BBC2) & Meet Ricky Gervais (C4) as well as writing for Lily Savage and Frank Skinner.

As would be expected of a comedian with a soaring international profile, Jimmy Carr also performs at all the international comedy festivals, and was one of very few top British comedians selected to appear at the world's two top Comedy Festivals; in Montreal for the 'Just For Laughs' Festival in July 2002 and 2003 and in Aspen at the International Comedy Arts Festival in February 2003.
You may also be interested in...