Gary Delaney
Stand up comedian (Mock The Week) and writer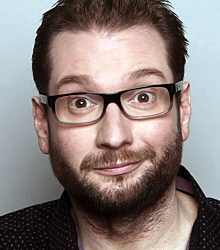 About
Gary Delaney is widely regarded as being the most quotable one-liner comic in the country. He projects the barely hidden delight of a cheeky schoolboy and the audience can't help but be carried along by his infectious charm.

A regular guest on Mock The Week and 7 Day Saturday, Gary has also made appearances on Live at The Apollo, Dave's One Night Stand, Channel 4's Robert's Web, Loose Ends and Russell Kane's Whistle-Stop Tour. He has also written extensively for TV and Radio including, 8 Out Of 10 Cats, League Of Their Own,10 O'Clock Live, The British Comedy Awards and The News Quiz.

A former student of the London school of Economics, Gary Delaney owes his comedy career to a bet – which he lost. It was made by one of his best friends, fellow economics student Martin Lewis. Martin went on to become TV's Money Saving Expert and a consumer rights expert, but he also set Gary on the road to household name success as a stand-up comic.

Gary used to frequent comedy clubs as a student but never had the nerve to get up on stage, unlike Martin who was immensely confident. He dabbled in stand-up, doing about 30 gigs, and Gary wrote the jokes for him. He'd written one about nurses and told Martin "That's the best joke I've ever written, it should bring the house down". When he came back and said it didn't work, Gary said "You're not doing it right, mate".

Martin said "Try it yourself, then!". The pair went for a pint after a gig and Martin bet Gary £20 that he wouldn't have the nerve to do an open spot at a comedy night within six weeks. He pushed Gary into it, and after 18 months he started getting paid for comedy gigs, then three weeks before his 30th birthday he gave up his job organising conferences and started performing comedy full time.

In 2003, Gary Delaney toured the UK supporting controversial magician Jerry Sadowitz. His debut stand-up show Purist was a big hit at the Edinburgh Festival in 2013, selling out every night and receiving many four and five star reviews. In 2016, his follow-up tour There's Something About Gary was equally well received and was extended four times, taking in over 200 venues. In 2018/19 he toured the UK extensively to sell out audiences with Gagster's Paradise.

Gary's a double Sony Award winner who has also written for other stand-ups, including Jason Manford and Micky Flanagan, and for TV and radio shows such as 8 Out Of 10 Cats, Russell Howard's Good News and The News Quiz.
He also writes for his wife, Geordie comedian Sarah Millican.

He's the only comic ever to have got two gags in the same top 10 for Dave's TV Funniest Jokes from the Edinburgh Fringe. He's the premier gag smith of his generation and through Twitter he's become one of the most followed comedians in the country.
Testimonials
I was very happy with the service and performance. It is the first time I have booked a comedian and I was very impressed with the way Gary Delaney was keen to personalise his routine and understand the audience. I somehow expected him to just turn up and perform a standard set.
Superfast one-liners come at you like Keanu Reeves slinging punches in the Matrix finale.
We worked with Gary Delaney in February 2014, commissioning him to write and film to camera 50 puns for use in an innovative new Blippar comedy download campaign for Foster's. We chose Gary, not only as his is one the best pun writers in the country, but also because has a brilliant comedy writing CV. We needed comedy talent who could deliver to a brief and in a tight time-frame and Gary delivered that spot-on. He was very professional to work with and his writing on this project only further proved to us what a super-skilled comedy talent he is. He was accommodating with any suggestions from the Client in terms of filming direction and most of all great fun to work with! We're looking forward to working with Gary again and would have no hesitation whatsoever in recommending him to any of our corporate Clients.
You may also be interested in...