Alun Cochrane
Perrier-nominated stand up comedian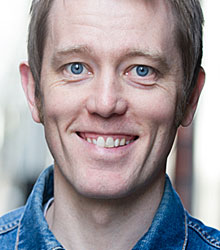 About
Alun Cochrane is a Perrier-nominated stand up comedian with many TV and radio appearances under his belt, including BBC One's Michael McIntyre's Comedy Roadshow, Dave's One Night Stand, Have I Got News For You, BBC Two's Never Mind The Buzzcocks and Mock The Week, Channel 4's 8 Out Of 10 Cats, and headlining Live At The Comedy Store on Comedy Central.

Born in Glasgow and raised in West Yorkshire, Alun made his Edinburgh Festival Fringe debut with 'My Favourite Words in My Best Stories' and was nominated for the Best Newcomer award at the Perrier Awards. He went on to be nominated for Best Compère and Best Breakthrough Act at the 2005 Chortle Awards. He returned to the Edinburgh Fringe during the same year with a new solo show Comedy With Sad Bits and returned in 2006 with Introducing An Introduction To Alun Cochrane's Imagination.

Alun has hosted radio on XFM Manchester, as well as featuring on The Now Show, Just A Minute, Loose Ends and Lee Mack and Friends. He also had a non-speaking role as a waiter in the third series of Lee Mack's 'Not Going Out'.

Alun appeared in series three of the BBC Radio 4 stand up show 4 Stands Up and has also featured on The Now Show. Alun has also appeared on BBC Radio 5 Live's Fighting Talk and Radio 4's Just a Minute. He started as a full time presenter on Frank Skinner's Absolute Radio show in June 2011 replacing Gareth Richards.

Alun Cochrane is a master at observational comedy, telling tales about eating, sleeping, daydreaming, driving, being a son, father, brother, husband, friend, mortgage-holder, clothes-wearer, car-owner, radio-listener, train-traveller, door-opener (and closer), alcohol-consumer, hangover-sufferer, newspaper flicker-through-er, occasional football watcher, and general liver of life, in short; he gets material from anywhere he wanders in mind or body.

As an Edinburgh Festival regular, Alun Cochrane has earned himself a handful of four and five star reviews to go alongside the Writer's Guild Award for Comedy.
Testimonials
Alun Cochrane's performance was delivered with a warmth and sincerity that allowed him to grab the audience right from the start, and once he had hold of them, he never let go! Offstage, he was happy to meet the audience, pose for photographs and sign autographs, ensuring the good feeling he created earlier remained long after he'd gone. Alun's a model professional and I hope we'll work together many more times.
Thank you again so much for all your help on Friday night and please thank Alun Cochrane again for us, he was wonderful!
Wednesday was a great success and we were very happy with Alun Cochrane, he went down very well with the crowd and we had lots of positive feedback. Thanks for your help too for making this all come together so smoothly. Am sure we'll be in touch regarding future events very soon.
I just want to say thank you to Alan Cochrane as he was brilliant and the feedback we have received was great. On that note we would be interested in asking him back next year... is there any way we can provisionally book him?!
Alun Cochrane was brilliant! He went down really well and got through the awards in record time. It was a pleasure to have him host the event.
Alun Cochrane delighted guests with a fantastic stand up set, he also served as compère for the evening, doing so with flair and professionalism, keeping the audience entertained throughout.
You may also be interested in...