John Thomson
Award-winning actor, writer and comedian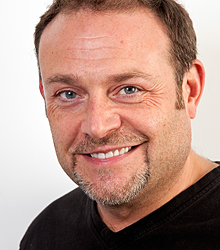 About
An award-winning actor, writer, impressionist and comedian, John Thomson has been at the forefront of British television for over 20 years. Best known for playing the role of Pete Gifford in the hugely successful and award winning Cold Feet, John went to university with Steve Coogan and one of his first ever roles was playing Fat Bob in Coogan's Paul Calf series.

John has appeared in numerous popular TV shows including Men Behaving Badly, Playing The Field, Big Top, Coronation Street and Kingdom. From 1994, John appeared in the BBC sketch show The Fast Show, until it ended in 2001; playing memorable characters such as Chip Cobb, the deaf stuntman, and Roger the Nouveau football fan but it is "Jazz Club" host Louis Balfour that he is most remembered for, with the catchphrase, "Nice!" He also appeared in The Fast Show Live and the spin-off Ted & Ralph.

He has also lent his voice to the revived BBC children's series Bill and Ben and Mr Windfall in Wallace & Gromit in The Curse of the Were-Rabbit. Another television series, New Street Law, about a Manchester chambers, started in 2006. Thomson played "lovable rogue" barrister Charlie Darling alongside co-star John Hannah. In 2011, it was announced that John Thomson would be joining the cast of the BBC television series Waterloo Road.

A keen adventurer, John took part in Jack Osbourne's Adrenalin Junkie and Channel 4's Famous and Fearless. He was also a guest judge on the ITV1 Prime Time show, Sing If You Can and hosted The Big Chip Awards in Manchester.
Speech Topics
Having started his career as a stand-up comedian, John Thomson continues to entertain audiences at corporate events and private parties with humorous anecdotes from his life and career. He is also an experienced and popular host for award ceremonies and gala dinners.
You may also be interested in...