Will Smith
Hollywood 'A' List Actor, producer and musician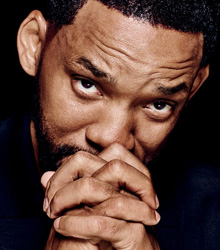 Copyright © Trunk Archive
About
As an actor, producer and musician, Philadelphia-born Will Smith has enjoyed a diverse career encompassing films, television and multi-platinum records. In 2007, Newsweek called him "the most powerful actor in Hollywood". He has been nominated for five Golden Globe Awards plus two Academy Awards, and has won four Grammy Awards.

His vast filmography includes transformative portrayals of true-life icons in Ali, The Pursuit of Happyness and Concussion. He has headlined an extraordinary list of films, including Hitch, I am Legend, I, Robot, Independence Day, Men in Black I, II, and III and Suicide Squad. Will can most recently be seen in Netflix's fantasy cop drama film Bright, which streamed to a staggering 11 million viewers in its first three days on the platform.

Will Smith began his career in the late 1980s as the MC of the hip-hop duo DJ Jazzy Jeff & The Fresh Prince, with his childhood friend Jeffrey "DJ Jazzy Jeff" Townes as turntablist and producer. Then, in 1990, he was approached by the NBC television network to star in the beloved, and now cult-status, Fresh Prince of Bel-Air, which was written specially for him, and ran for six seasons. When the series concluded he transitioned from television to film.

In 1998, he and partner James Lassiter founded production and management company Overbrook Entertainment, which has produced numerous top film and television projects. Will Smith is the only actor to have eight consecutive films gross over $100 million in the domestic box office, eleven consecutive films gross over $150 million internationally, and eight consecutive films in which he starred, open at the number one spot in the domestic box office tally.

Will Smith has been ranked as the most bankable worldwide star by Forbes. For his performances as boxer Muhammad Ali in Ali (2001) and stockbroker Chris Gardner in The Pursuit of Happyness (2006), he received nominations for the Academy Award for Best Actor.

In addition to his artistic achievements, he founded the Will & Jada Smith Family Foundation with his wife, Jada. WJSFF is a non-profit, philanthropic organisation committed to improving lives and investing in organisations and initiatives that empower traditionally overlooked communities.
Speech Topics
Global Hollywood icon, Will Smith, presents a captivating, inspiring and moving moderated speech on his life, career, conquering fears, succeeding, and living the life you desire.

Always focused and determined, Will had his mind set on a career in the entertainment industry when he was still in high school, and in early adulthood assigned himself the goal of becoming "the biggest movie star in the world", studying box office successes' common characteristics. So much so, that he turned down a very probable chance of studying at M.I.T in preference for focusing on rapping.
Testimonials
Both Will Smith presentation, as well as the Meet & Greets, were really successful. All of the feedback has been really positive. Will and his entire team were a pleasure to work with and Will was great on stage and off.
You may also be interested in...